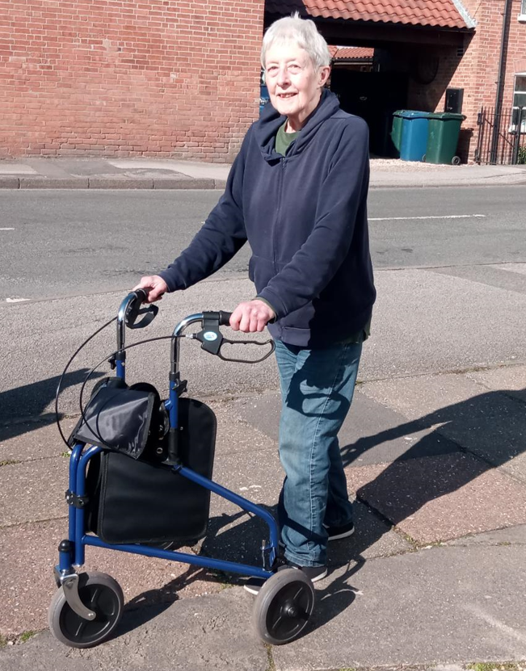 Pensioner praises support following discharge from hospital
A pensioner in Nottinghamshire has praised the 'excellent' care she received following a fall at home.
76 year old Frances Latty, from East Bridgford, was standing on a stool trying to change a lightbulb when she fell and suffered a stress fracture in her spine.
She didn't realise the damage she had done and continued walking round for three days after her fall before seeking medical attention. She was then admitted to hospital at the end of January.
When Frances was discharged from hospital two and a half weeks later, she received support from the Home First Response Service (HFRS) – a short-term rapid response service which can help if you need social care support to remain at home. HFRS also help people get home from hospital quickly, in turn, freeing up space in busy hospitals.
This service is contracted by the Nottinghamshire County Council from TuVida, to provide care and support for people who are medically fit to return home.
Carers went in to support Frances with showering, dressing, shopping, support with medication and meal and drink preparation.
The County Council's reablement team also helped Frances with equipment and support to help her return to independence. They completed a kitchen assessment to see if she could manage to safely make a hot drink and then cook for herself. They also worked with her to find out what her goals were. One of the things Frances wanted to do was to bath herself, so the team arranged for her to have a bath seat.
Frances said: "The bath seat made a big difference, and I can bath myself now. It's lovely to be surrounded by soapy water."
Frances also has a walker and grab handles around the home. One of her first visits out of her home was to the hairdresser.
She added: "The support I've had has been excellent. We phased it out as I'm getting more independent. Sharon was very instructive in how to cope with things. I've got the grab handles around the home and a walker to get about.
"They've all been so, absolutely, lovely – the carers, Sharon, everybody. I cannot stress enough how much help everybody's given me.
"I can put my jeans on myself now. It's amazing, I just think 'I couldn't do that a week ago.' My brothers remarked when they saw me a couple a weeks ago – how amazed they were at the difference in my mobility and ability to care for myself."