Inspiring staff and volunteers ensure vaccination centre success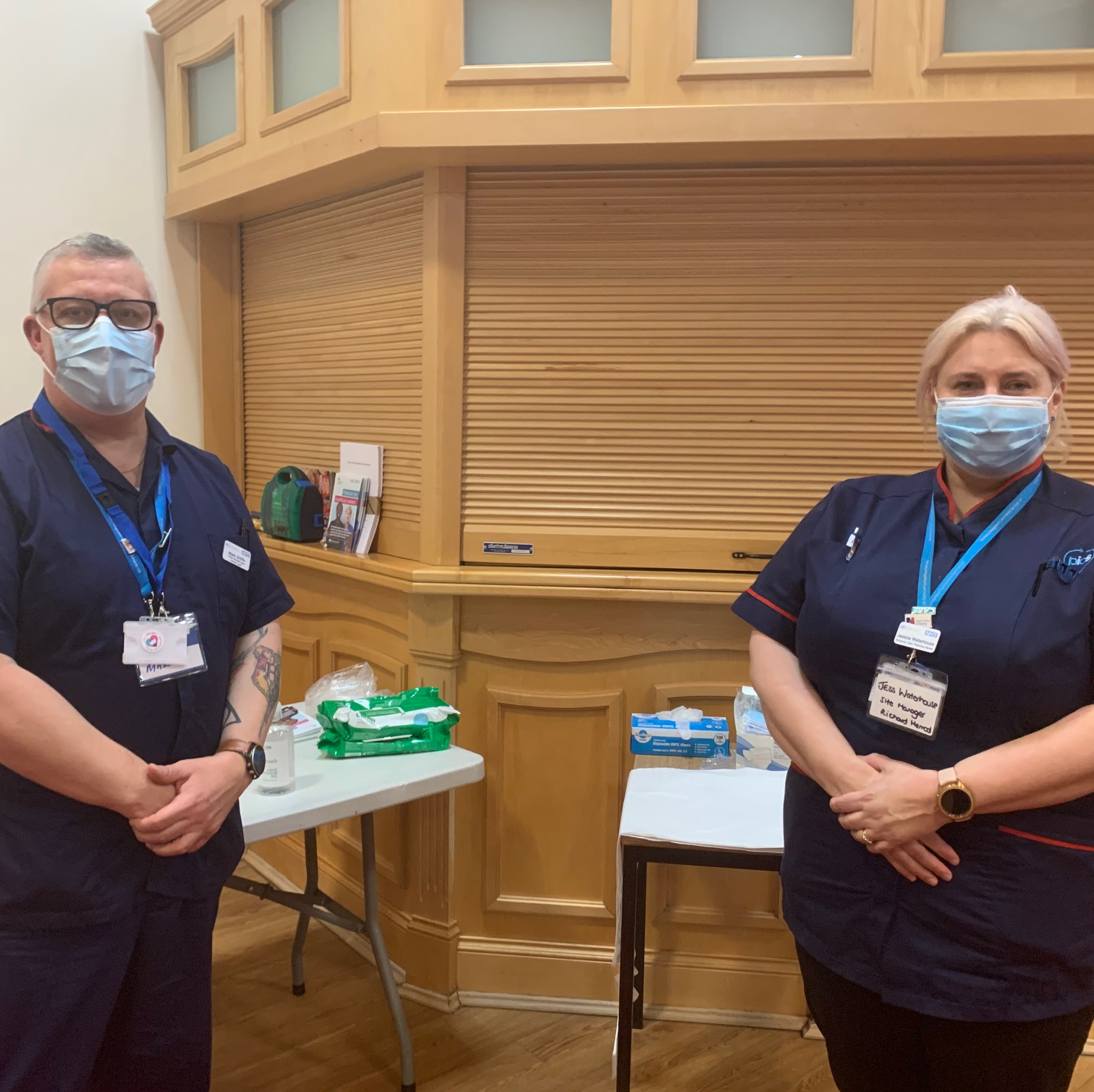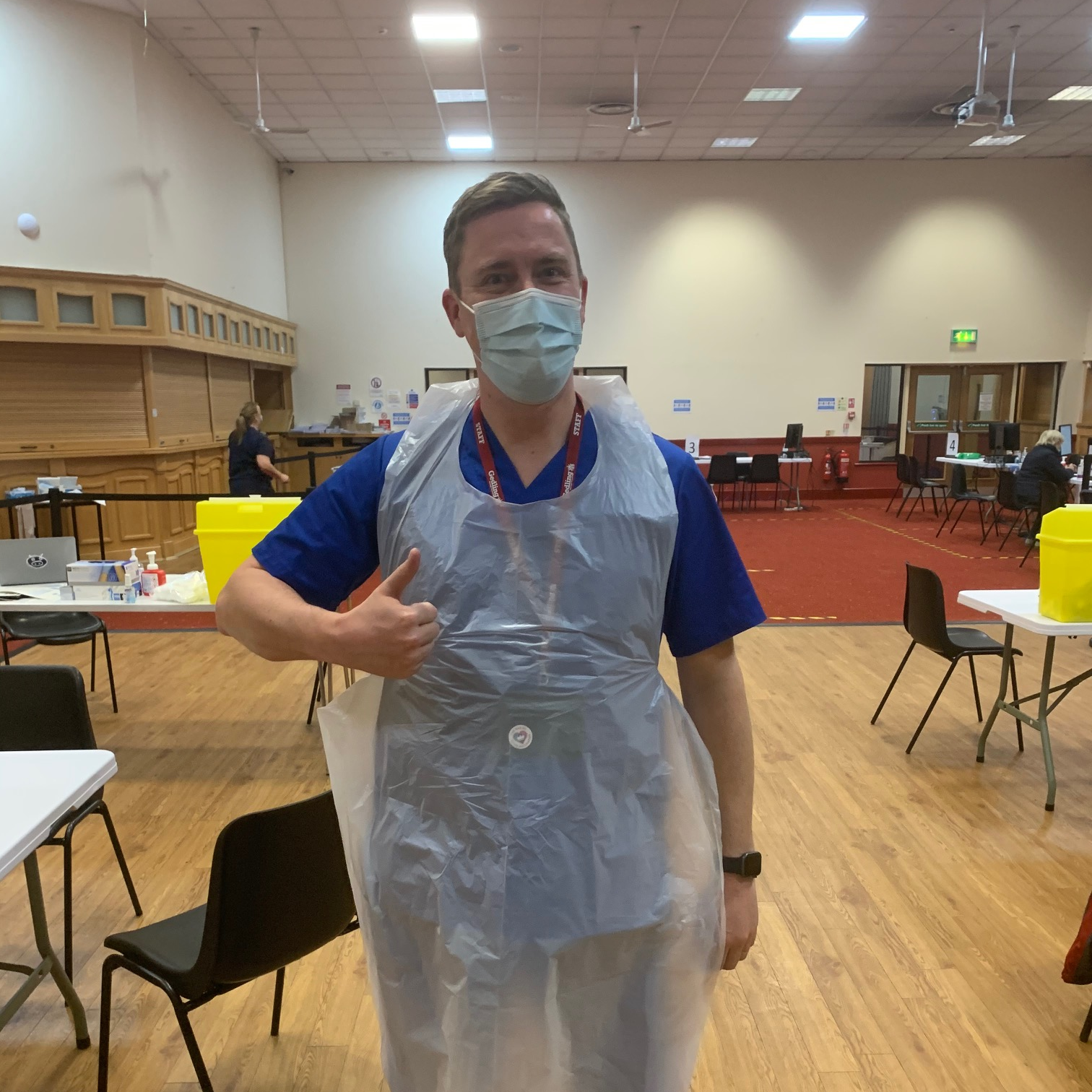 Earlier this month, the first two Covid vaccination centres on our patch opened at the Community Centre in Gamston and Richard Herrod Leisure Centre in Carlton. South Notts News visited the Carlton site, which counts Professor Jon Van Tam as one of its team, to talk to its staff and volunteers…
It was a cold, snowy evening when we visited the site, but the weather hadn't dampened people's enthusiasm for the vaccine. Staff told us the over 80s they had vaccinated talked about their happiness that there was a light at the end of the tunnel, and that they could now see that the day will come when they can hug their grandchildren again.
For some people, it was the first time they had left their houses since March 2020.
The vaccination centre at Richard Herrod was opened on Wednesday 6 January, one of the first in Nottinghamshire, and will support the rollout of the national vaccination programme. Since then, several additional facilities have opened at other locations across Nottingham and Nottinghamshire.
Vaccine recipients will be called forward in priority order, as set out by the Joint Committee for Vaccination and Immunisation (JCVI), with the NHS sending letters to eligible people in due course. Vaccines will be delivered by appointment only.
The feedback from the people receiving the vaccine, which was overwhelmingly positive, created a really positive environment for the people who had volunteered to support the roll out.
The volunteers come from a wide and varied background, and while many work for the NHS and health and social care organisations across the area, there are volunteers from all walks of life including the council, police, and airline staff.
Site Manager Jess Waterhouse, who has been seconded from PICS for six months, said: "Getting this up and running is how I imagine it's like being in the Army. We've all pulled together and built really strong working relationships. Together with partners, we set this place up from scratch."
"We have had fantastic support from Gedling Borough Council staff, and we've trained a wide range of people to vaccinate – TUI and BA cabin crew, council staff, and NHS staff. We also have police here to volunteer and support. They come and help manage people, particularly when we started. They stand on the door, but they also help giving out clipboards and guiding patients – they've been marvellous."
Mark Griffen, who also works for PICS, said: "It's my first day and everybody is doing everything and anything, no matter who you are. Nurses and GPs are working alongside cabin crew, personal trainers and accountants.
"The support around me has been incredible. I'm a nurse but I haven't been clinical for a while, but I was able to get back into it with the support of the team. I was nervous at first, but now after a day I feel confident and I've been injecting all day.
"Teamwork, everyone supporting one another, covering for each other – it's just been amazing what has been set up. And the patients coming through are so happy and grateful.
"I had a patient who had very recently lost his wife, so it was incredibly emotional for him. It's important to have compassion and spend a little bit longer with someone if we need to. It's that human emotion.
"Another patient this morning said they really wanted to go to Asda – people just want get back to normal, although we make sure we tell them to hold on just that bit longer, to wait until after their second vaccination. I say look how far you have come."
Jess added: "Everyone is so keen to get involved. It's an altruistic thing to do and there's so much positivity. Everybody really wants to be here. Sometimes we've found ourselves a bit short staffed, and there have been so many people willing to keep working and stay a bit longer. The positivity is overwhelming – people come and say thank you at the end of their shift for being given the opportunity to volunteer!
"Some of the people coming in haven't been out of the house since March and they get all dressed up to come here. It's really emotional for them sometimes, as they can now see a light at the end of what's been a very long tunnel."
In addition to volunteers, staff have been redeployed from other parts of the health and care system. One of these is Susie King, who works in the prescribing team at the Clinical Commissioning Group but is now working on overseeing the vaccines.
Susie said: "I've been here for a couple of weeks and it's been amazing. I really love working here. My role is to oversee making up all the vaccines, and we do all the work up to the point the vaccinators do the vaccination.
"We work very collaboratively; it's a great team and I really enjoy coming here. Everyone is working hard and we're doing something together for the good of the people. Everybody is so positive. That's the atmosphere. Everyone really wants to make a difference."
Mandy Varley, who used to work as a Healthcare Assistant in sexual health, knew that she just had to be involved when the opportunity to volunteer arose. She is working across the vaccination centres but particularly likes working at Richard Herrod: "I've been here all this week doing 6-hour shifts. I was volunteering anyway as an NHS responder and when this came up, I just had to come and do it. I wanted to be part of it because I want things to move on.
"My motivation is to make a difference and it's been an absolute privilege to get to know everybody here – it's a great team. It's incredibly well organised and everyone is working hard because we need to get there, we need to make everyone safe.
"I'm coming back here next week because you get to know everybody and it's a lovely place to volunteer. It was daunting to first give a vaccine, but you quickly get more confident and then you can help other people out too. The lady I've just given a vaccine to was 92 and she was fabulous – she hadn't been out anywhere for such a long time, and was really grateful to be getting the vaccine.
Andy Solley has been juggling his job at Gedling Borough Council with giving Covid jabs at Richard Herrod and was enjoying the camaraderie of working at the centre.
He says: "I'm trying to do two sessions in the week and one at the weekend alongside my job and family commitments. The professionals from the NHS that are here are amazing. They're so helpful and kind, so you just watch them and the way they are with patients, so caring and natural. I never thought about it when I was clapping for the NHS, the real people, but they are brilliant.
"I think about looking back at my life when I'm 80 and how I'll measure my life, and I'll have done this and that's incredible. It's so important. People come in and say 'Thank you so much, I've been inside since March'. They've been so frightened and that's all starting to change with the vaccine. They feel some hope."
Jess summed it all up, saying: "We're enormously proud of our vaccinators. They're the backbone of the operation, and it's great to walk round and see everyone happy and getting on with things. Nobody has made any mistakes, they are that good. They are what makes this all work."
This was a recurring theme; the positivity, teamwork, and the sense that they are participating in history for the benefit of all.
But perhaps the biggest testament to the staff and volunteers is the positive feedback from the patients.
Rosalind Dixon, who lives in Gedling, supported two friends to the Richard Herrod Centre on Sunday for their vaccinations, and said: "It was fantastic. Very, very well organised, with charming and helpful staff. One friend had her appointment for 9am, the other for 9.10am, and we were on our way out the door by 9.35am, all done and dusted.
"My 90 year old friend was quite disappointed as it was her first outing for months and she wanted it to last longer!"