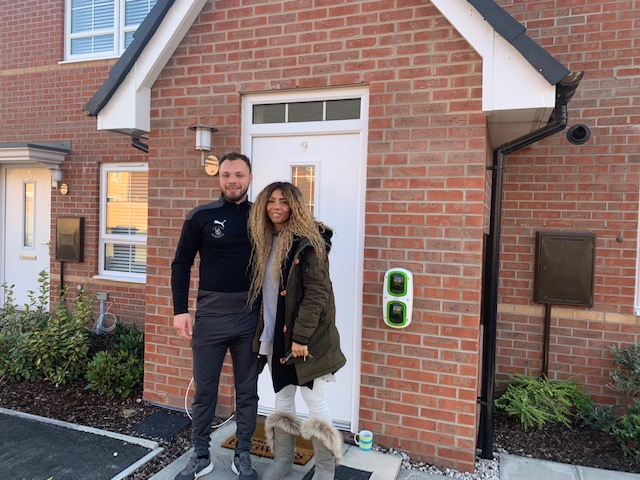 From homeless to a new life with the help of Rushcliffe Social Prescribing service
After being referred to the Rushcliffe social prescribing service, Macauley Diuk has started a new life…
"I've gone from not having anything to this. I'm still learning, but it's amazing to have this stability." Macauley Diuk, 27, is speaking from his new home in Bingham where, supported by the Rushcliffe social prescribing service and local charities, he has embarked on an exciting new life.
But things weren't always so rosy. Before meeting his Social Prescribing Link Worker Morgan Sharpe, Macauley was living on the streets in Nottingham and South Nottinghamshire. He says: "I was living pillar to post on the street, in mates' houses. I'd march everywhere just to keep warm through the night – I don't walk, I march to anywhere my head is at the time.
"I was living like this for four or five years – I didn't have a home to go to. I went to prison for a bit, but when I came out in 2016 I had years of just existing, not really living."
To get to where he is today, and throughout his journey, Macauley has been supported by a number of local agencies. Initially, he was helped by Framework, who he first spoke to when he was living on the street. He says: "They first made contact while I was sleeping rough. I had a great support worker called Jan, who moved heaven and earth to help me out, but it just didn't happen at that time."
Macauley was referred to the social prescribing service by his GP during lockdown, which is when Morgan picked up his case. Because of the pandemic, and the amount of contacts the service were making over the phone, she struggled to get hold of him for a while. When they finally got in touch, Macauley was clear that he wanted a face-to-face meeting, Morgan had to think outside the box.
Macauley says: "In the first instance it was someone to talk to who really knows her stuff – you can talk to her about anything to be honest, so it was good. She took me down to the Ruddington Allotments and I worked very hard at the allotment, as did everyone who was there.
"I started to feel comfortable there, and it was a great place to talk things through. Being together in that environment was incredible; I felt I could be me. It had a completely different feel to previous health professional consultations – a different dynamic."
Morgan says: "It was a much better environment for Macauley. He didn't really get on with conventional statutory settings and that prescribed kind of consultation with the traditional health professional and patient dynamic."
Macauley put Morgan in touch with Framework to get his background and she linked in with Jan, who helped by putting her in the touch with the right people in housing and at the council and explaining what support he would need in place.
She says: "Everybody I spoke to all knew Macauley and were surprised he hadn't been housed yet – nobody had a bad word to say about him. People who find themselves in Macauley's situation can sometimes become quite bitter, but everyone said what a nice guy he was and how he had fallen through the cracks. They all wanted to go above and beyond for him because of the kind of person he is."
It wasn't a simple process though. There was a lot of paperwork and Macauley didn't have a bank account or any ID at the time, so it was difficult for the housing organisation to send information to him.
Morgan contacted The Friary, a homeless charity in West Bridgford where people can get a shower, something to eat and additional support to help them get into accommodation. She explains: "The Friary offers homeless support and an advice centre and service to help people with benefits and housing issues. They were able to support Macauley with all the paperwork and legal issues he needed to sort out."
Macauley says: "If it wasn't for Morgan, Framework and the Friary, I would never have got this far. They have all helped me restart my life."
It finally all came together and Macauley moved into his new home, with The Friary continuing to support him by providing a van to pick up furniture donated by The Arches, a Nottingham charity which gives away furniture for people moving into empty properties.
Macauley has been in his new house for three months now, and has also received support from Bingham Helping Hands. He's learning to manage his life, including the tricky challenge of budgeting, and is continuing to play football for Ruddington.
He's got plans for the future as well, wanting to become a life coach and share his experiences, as well as doing his FA coaching badges 1 and 2 early this year.
Morgan has continued to support him as he embarks on this more stable chapter of his life and says: "I'm helping him to settle in, checking in and making sure he's OK. He's doing amazingly well and I'm confident he's going to build a great future for himself. He's a credit to himself as well – he's had help, but he's done so much for himself. We might have opened the doors, but he has walked through them."
And the final words go to an emotional Macauley: "The support I've received has been incredible. They have saved me. The chips were down, but they've lifted me up. They're all angels; everyone who has helped me is an angel."