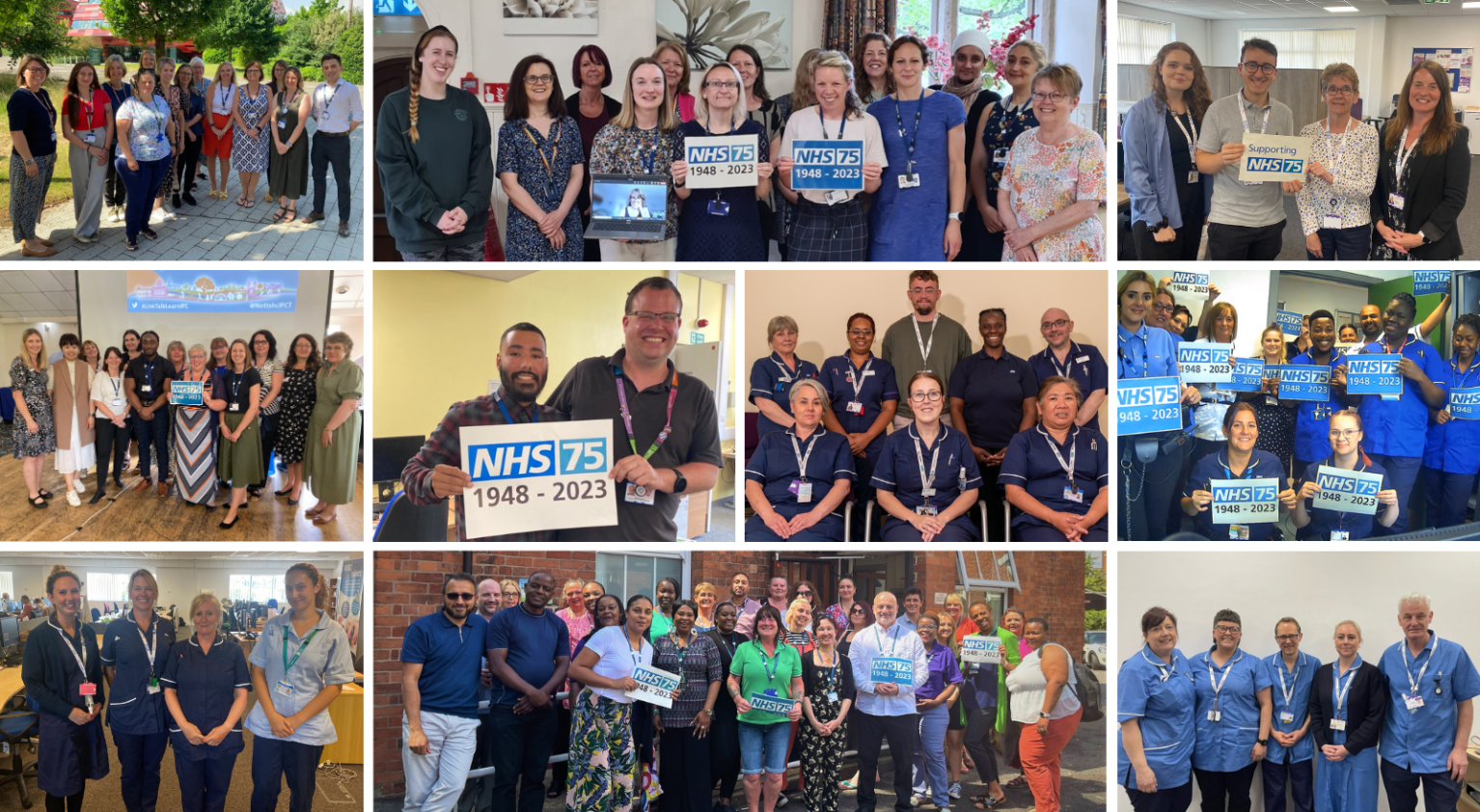 Healthcare leaders across Nottingham and Nottinghamshire praise the 'spirit of the NHS' during 75th anniversary celebrations
Health leaders across the NHS in Nottingham and Nottinghamshire have shared their reflections as the NHS celebrates 75 years.
The NHS was formed on 5 July 1947 and since its establishment, it has innovated and adapted to meet the needs of each generation. The NHS nationally treats more than a million people every day with health leaders praising staff and volunteers for their hard work and dedication in making this possible.
As the NHS marks 75 years, it is a time to celebrate our people and look to a future where we continue to put patients first. To commemorate the 75th anniversary, healthcare leaders from across Nottingham and Nottinghamshire have shared their reflections.
Amanda Sullivan, Chief Executive of NHS Nottingham and Nottinghamshire, said: "The 75th anniversary is the perfect time to look back and reflect on what has been achieved but it is also a chance to look forward and build on this work, and over the last few months that is exactly what we have been doing. We are developing a local NHS Joint Forward Plan which will set out how NHS core services will be recovered and made sustainable following the pandemic. Our aim is to work with our healthcare partners to follow a joint ambition to allow every person in Nottingham and Nottinghamshire to enjoy their best possible health and wellbeing.
"I want to take this opportunity to thank our incredible NHS teams of staff and volunteers who work tirelessly with passion and resilience through the good and the bad. Their relentless efforts embody the true spirit of the NHS, and I am proud to be able to say I work alongside such talent and compassion. Finally, I also want to thank you, the public, for continuing to support your local NHS – we will always be here for you, your family, and loved ones in times of need."
Anthony May OBE DL, Chief Executive of Nottingham University Hospitals (NUH), said: "The 75th anniversary of the NHS provides the opportunity to reflect on past achievements, recognise where we are today, and to look ahead to the future. Since 1948, the NHS has supported many innovative research discoveries, from organ transplants to vaccination rollouts, national screening programmes, in vitro fertilisation (IVF) and DNA mapping. The NHS has championed life-saving, evidence-based medicine and made huge strides in improving life expectancy.
"As the NHS reflects on what is needed to strive after the most turbulent time in its history, our People First report helps set the direction for NUH to do the same via a framework through which our three biggest barriers flow, recruitment and retention, and culture and leadership can be tackled.
"Despite our challenges, NUH does so many things well and it is humbling to be part of it. I want to thank all NUH colleagues, volunteers and our system partners past and present for everything you have done and continue to do for our local community."
Paul Robinson, Chief Executive of Sherwood Forest Hospitals, said: "Celebrating the 75th Birthday of the NHS is really important. This day gives us the opportunity to celebrate the fact we have access to free healthcare provided by the dedicated and skilled NHS workforce, who do amazing things day in, day out. I'm so proud of every one of my colleagues and feel privileged to be a part of it all."
Ifti Majid, Chief Executive at Nottinghamshire Healthcare, said:
"It's fantastic to be celebrating 75 years of the NHS with our colleagues, patients, carers, volunteers, partners and communities. The NHS is a big part of all our lives and at Nottinghamshire Healthcare our diverse workforce is proud and privileged to be part of this great healthcare system, providing expertise and skills caring for patients and their families.
"We've come a long way from the day the NHS was launched – a service which has always benefitted from staff from across the world, from the Windrush Generation of 1948 to today's workforce. And with ever advancing technology, research, and great opportunities to innovate and work closer with partners across health and care, together we look forward to shaping the health services of the future."
Lou Bainbridge, Chief Executive of Nottingham CityCare CIC, said: "As the largest provider of NHS health community services, Nottingham CityCare plays a vital role in the local healthcare system to keep people well in the place they call home.
"Today, on the 75th birthday of the NHS, we are celebrating our wonderful staff and the difference they make every day to the health and wellbeing our communities. We deliver a broad range of services to the people of Nottingham including urgent care, virtual wards, rehabilitation services, long-term conditions support, adult community and children's (0-19 years) services, alongside specialist services such as palliative care and tissue viability. Our staff also work collaboratively with health and social care system partners and providers to deliver joined up care and an NHS fit for the future.
"I am proud of Nottingham CityCare's staff and would like to thank them for the exceptional work they do to deliver excellent care."
A group of 18 NHS staff members from across the system, including healthcare professionals, volunteers and staff network chairs, are joining other NHS staff, senior government and political leaders, health leaders and celebrities at a service at Westminster Abbey to celebrate the NHS 75th birthday.