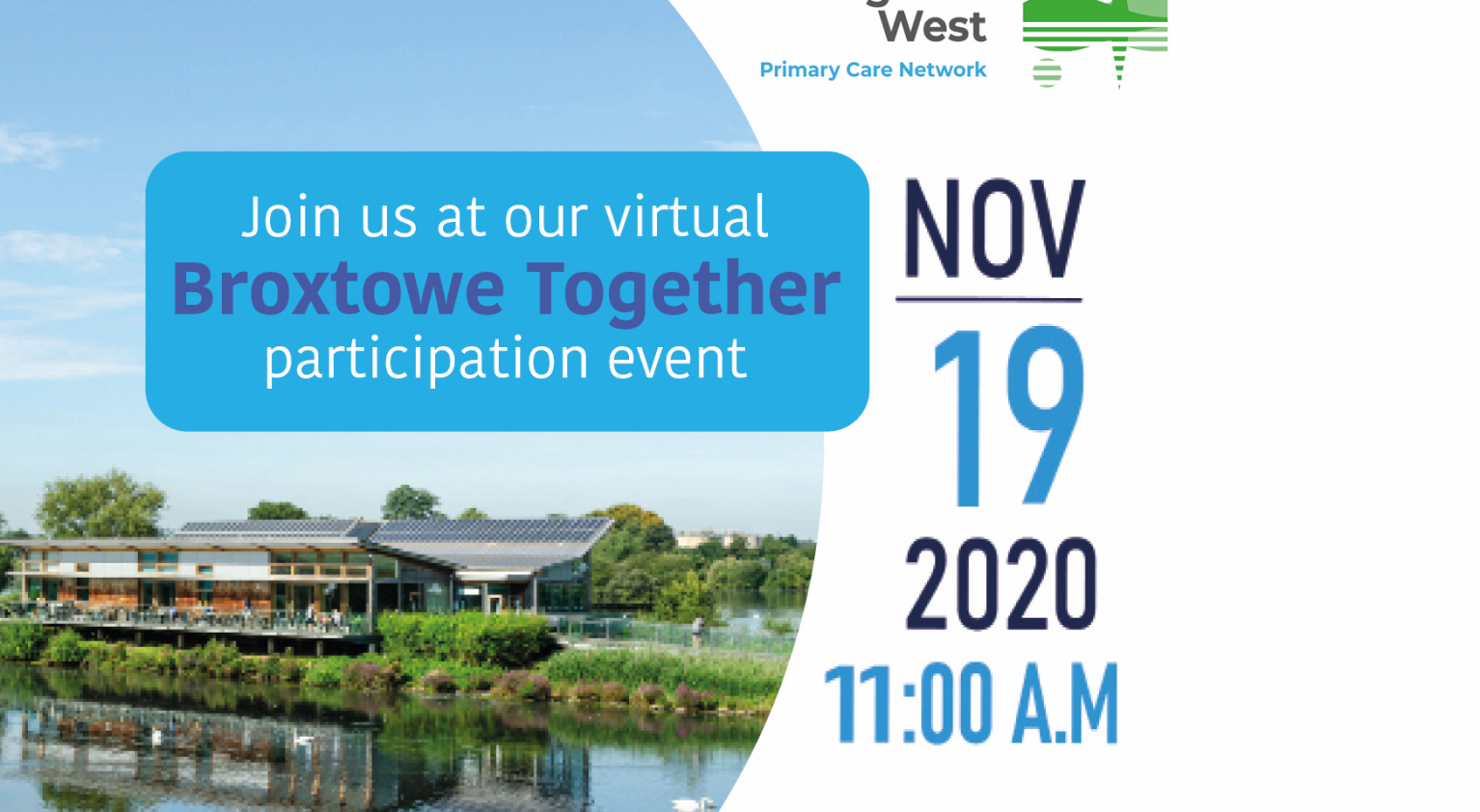 Local GP invites Broxtowe residents to discuss health and care priorities at 'Broxtowe Together' event
Local GP invites Broxtowe residents to discuss health and care priorities at 'Broxtowe Matters, a Primary Care Network engagement event
Dr Tim Heywood, Clinical Director for Nottingham West Primary Care Network (covering Broxtowe), is inviting people who live and work in the Borough to join him at Broxtowe Together, a digital engagement event to discuss priorities for health and care in the area.
The event, which will take place on Zoom between 11am and 1pm on Thursday 19 November, will be led by Dr Heywood, who also works as a GP in Eastwood.
The Nottingham West Primary Care Network (PCN) works across health and care organisations, local councils and communities in Broxtowe to support the integration of services and help local people live happier, healthier lives.
PCNs bring together GP Practices with a range of local organisations and groups, including community services, social care and the voluntary sector, to provide coordinated health and social care to their local populations. The networks involve local communities to ensure they are delivering the right services for local people.
Nottingham West PCN covers the GP Practice areas in the Broxtowe borough and is one of six PCNs which make up the South Nottinghamshire Integrated Care Partnership.
The PCN is divided into three neighbourhoods – Beeston, Eastwood and Kimberley and Stapleford.
Interested residents and health and care workers in the area can sign up at: https://www.eventbrite.co.uk/e/124529660567
If you come along to our event, you will:
Learn more about the Primary Care Network
Join the conversation about how we work together across organisations and community to improve life for people living in Broxtowe
Meet and discuss the health and wellbeing needs of local people with local leaders.
Watch Dr Heywood talk about why you should join us.
People attending the event will be asked to review the PCN priorities, make sure they continue to be fit for purpose and look at how participants can get involved with making sure we can plan well for the future.
Dr Heywood says: "This event is a fantastic opportunity to get involved with the development of integrated services in Broxtowe. I'm keen to talk about our priorities with different organisations and local people and get everyone involved in the development of our Primary Care Network.
"The event is a key point where we're spreading the net as widely as we can to invite as many people as we can to come along and talk to us and talk to each other to see if this is something they want to be part of.
"We really want to engage with people so they are genuinely involved in how their local services develop and how we join up care. So, if you have the time and you want to get involved, I look forward to talking to you."
People who are interested in finding out more about the PCN and getting involved with shaping services can sign up at: https://www.eventbrite.co.uk/e/124529660567