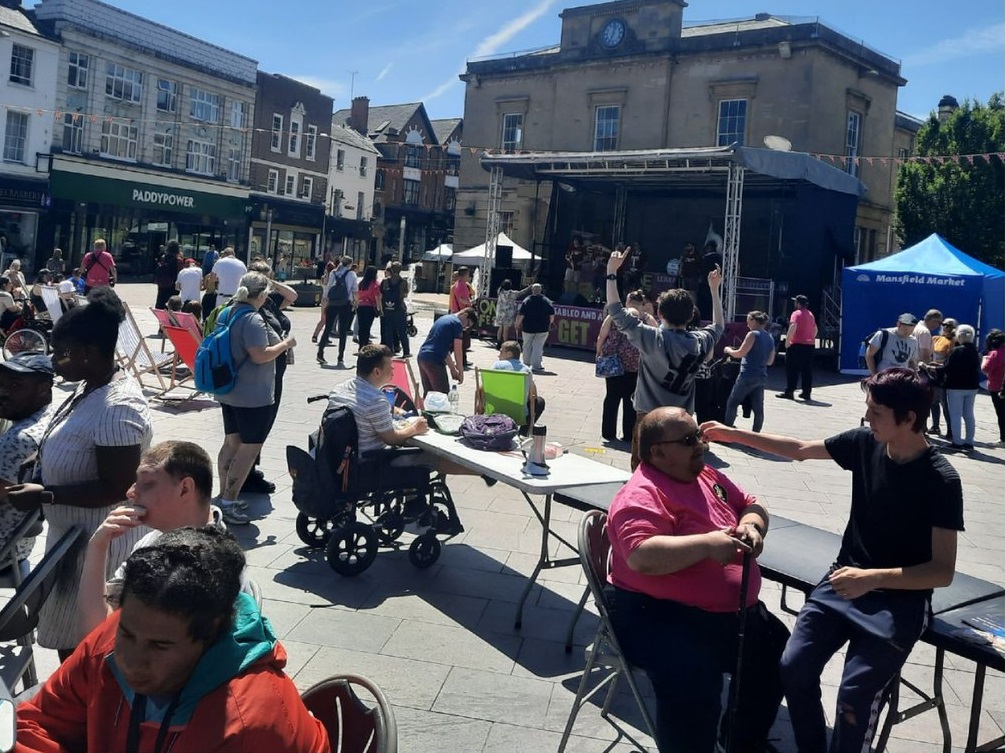 "We're coming to you" says GP to people with learning disabilities
Marking national Learning Disabilities Week, local GPs have announced a new service across Mansfield, Pleaseley, Warsop, Mansfield Woodhouse that finds people with learning disabilities to help improve their health and wellbeing.
Sarah Atkinson, a Specialist Learning Disability Nurse Practitioner of 25 years, has also been touring the area this week, talking with residents and GP practice staff about the care and support available for people with learning disabilities in local primary care services.
Sarah is in a brand-new role for local primary care services. As a Primary Care Network Learning Disabilities Nurse, her work is funded from the combined resources of 12 general practices covering the Mansfield population.
The service is championed by Dr Milind Tadpatrikar, GP at Roundwood Surgery for 20 years and the Clinical Director for the Rosewood (central Mansfield) area, supported by Dr James Mills, GP & Senior Partner at Orchard Medical Practice, Dr Khalid Butt, GP & Senior Partner at Oakwood Surgery and both Clinical Directors for Mansfield North Primary Care Network.
Dr Tadpatrikar explains: "GPs have been working hard to find and care for individuals that need urgent support. The impact of lockdowns, isolating and shielding has meant that health and wellbeing for this patient group has worsened.
"It doesn't mean that staff in practices don't care for this group. Many people with learning disabilities come and see us already. But the ones who don't come, who can't come, we want to know why. We need to know if they are missing out on services.
"We're finding people in our communities and personalising the service. It's about saying 'Do you need us? We're coming to you then.' We're bringing them into the main fold of the NHS care."
Sarah will also be working closely with staff in local surgeries and community services, training, advocating and highlighting the needs of people with a learning disability. Dr Tadpatrikar explains: "With specialist knowledge from Sarah, more staff will be able to pick up on things that will make a difference, and that's vital."
Sarah isemployed by Primary Integrated Community Services (PICS), a local provider of NHS services on behalf of the Primary Care Networks, and is looking forward to celebrating 25 years as a qualified Learning Disability Nurse this September. She says:
"I have always had a special interest and passion for meeting the physical health needs of people with a Learning Disability, who we know experience health inequalities due to barriers accessing services; and sadly many die earlier than the general population from treatable and preventable conditions.

"There are no other Learning Disability Nurses employed to work directly in Primary Care in the East Midlands, so this role is very exciting.
"This role is literally my dream job! Being able to use all my years of experience to forge relationships with those individuals who have not engaged with their surgery before; and being able to undertake observations and their health check for the first time ever, for some, is quite special.
"I have also relished working with different professionals within the surgeries, including GPs, Clinical Pharmacists and Palliative Care nurses. Seeing reasonable adjustments being made to ensure patients' needs are met is fantastic."
A patient's mother recently said about Sarah, "Sarah is a great help and has made a big difference to my daughter's health, getting her the support she needs. Thank you".
A manager of an assisted living home for people with learning disabilities said: "The empathy Sarah has shown has been heart-warming. It has been so lovely having you in our corner."
Notes to the Editor
With the launch of partnerships across GP practices (called Primary Care Networks) in 2019, local GPs have been able to make decisions that tailor care to their local populations. Previously, patients could be referred to a service that covered a much larger area of over 200,000 people.
Images and captions:
Sarah Atkinson, LD PCN June 2022 – Advanced Nurse Practitioner and Primary Care Network Learning Disabilities Nurse.
Mansfield LD event – Sarah's stall: Sarah Atkinson talking to residents and staff about supporting people with learning disabilities on June 20 2022, Mansfield Market Place as part of OneWalk. OneWalk 2022 — OneFest (oneconversation.co.uk)
Mansfield LD event – a photo of the crowd at the event above.
About PICS
Primary Integrated Community Services (PICS) provides quality health and social care for a population of over 1 million people NHS patients within the East Midlands and supports a federation of GPs.
Since 2013, PICS has grown to employ over 400 staff who provide a variety of community and out of hospital services, support five general practice surgeries and 11 Primary Care Networks. PICS are the largest provider of addition roles for Primary Care Networks in Nottinghamshire. It is independently accredited as an outstanding place to work with awards for safe, innovative and quality services.
Owned by over 130 local GPs, the company invests in primary and community care for the benefit of local communities and is not run to make a profit.