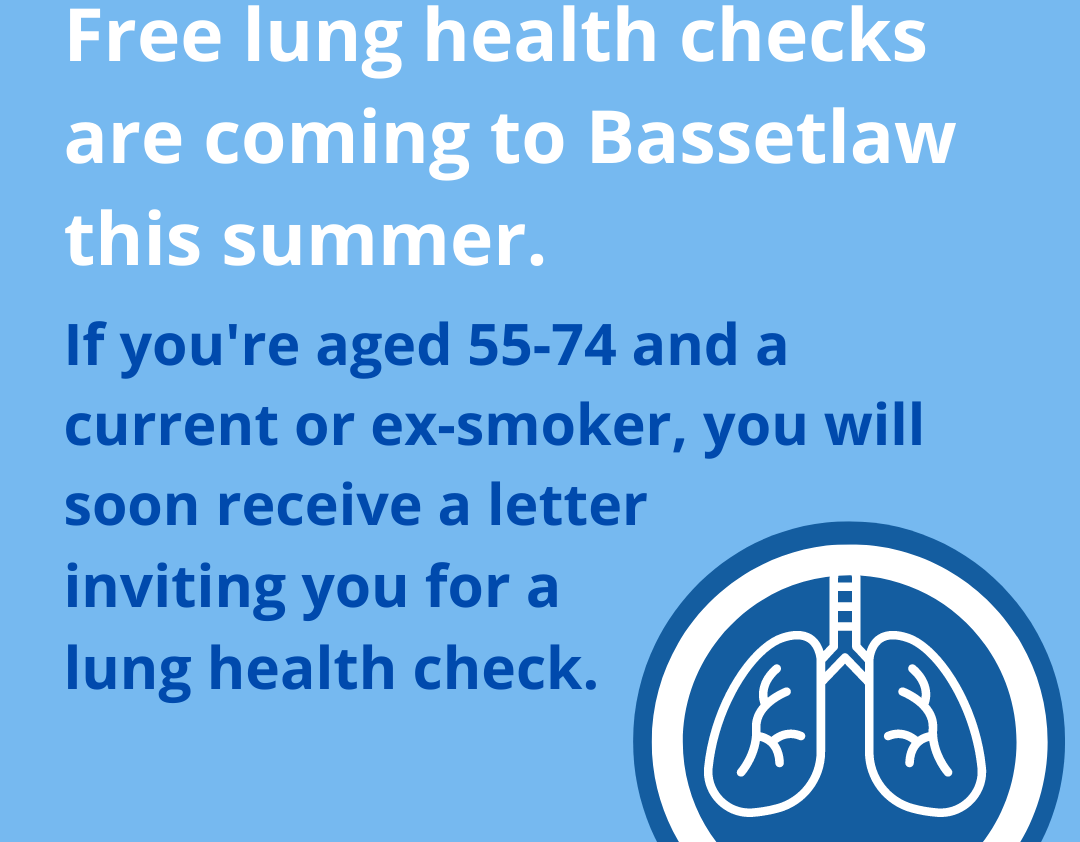 Targeted Lung Health Checks – FAQs
Why have I been contacted?
You have been sent a letter because your local practice has identified from your patient records that:
You are aged 55 to under-75
You live in Bassetlaw
You are a current or former smoker or no smoking status has been recorded at all on your record
You do not have to participate in the Lung Health Check, but the aim of the programme is to detect lung disease, including lung cancer, early so that people can
What is a Lung Health Check?
A Lung Health Check is an MOT of your lungs and will check that they are working as they should be. The programme will identify poor lung health, offer early diagnosis and better survival rates for lung cancer and other lung conditions by providing quick, easily accessible screenings for those deemed at higher risk of lung conditions. We want as many people as possible to attend their Lung Health Check.
What are the benefits of the Lung Health Check?
It is a new screening programme.
It is local and easy to get to – your check takes place over the telephone and in a community setting close to your home
You can talk through your questions with healthcare professionals
There is no judgements on smoking and there is advice and assistance on how to quit smoking available if you would like it
We may be able to identify any health concerns of your lungs much quicker than if you hadn't attended a Lung Health Check meaning you will have more treatment options
How are Lung Health Checks carried out?
Lung Health Checks are carried out by nurses over the telephone. Should you then be identified as eligible for a low dose CT scan you will be invited to a mobile unit based at various places across Bassetlaw.
Does the mobile scanning unit have wheelchair access?
Yes there is wheelchair access on the vehicle for those who require it.
Do I have to get undressed if I need a CT Scan?
You may need to remove your coat but you can leave your clothing on.
Can I bring someone along with me to the appointment?
Due to limited space in the scanning unit please come for your appointment on your own and if you can, as near to your appointment time as possible to avoid queues. If you need someone with you, please limit it to one person. As space is limited any person accompanying you may be asked to wait outside until your appointment is complete. Please let us know if you have any additional needs at the time of booking the CT scan and we will do our best to accommodate you.
What happens after the Lung Health Check?
Should anything be identified either during the discussion with a nurse or during the CT scan, then dependent upon what this is, you will be contacted by telephone or letter with the next steps. If you have any worries about this you can speak to the nursing professionals in the booking team.
How can I tell the difference between symptoms of lung conditions and Covid-19?
We understand that some symptoms of lung conditions are like those of coronavirus. It is important to look out for anything that is unusual for you. If you notice any of the following, without coronavirus symptoms. Please contact your GP as soon as possible for:
Unexplained persistent cough
Unexplained persistent breathlessness
Fatigue lasting four or more weeks
Persistent or recurrent chest infection
Unexplained weight loss
Appetite loss
Why is Bassetlaw getting this service – what about the other areas?
The lung health check service has been running in Doncaster over the last year and will move to Bassetlaw over the summer before expanding to other areas in South Yorkshire in Autumn 2022. Bassetlaw has been selected as the next phase for the roll out of the service due to the smoking levels and lung cancer mortality rates.
It is intended that this programme will be available across the country in the future but we do not have any timeframe for its rollout at present.
I smoke and I'm just outside the age range – why can't I have a Lung Health Check?
This is a targeted programme for people who are at the greatest risk of developing lung problems, including lung cancer at a future stage. As with most screening programmes for people who are asymptomatic (displaying no symptoms) the resources are targeted at the people most at risk. The people most at risk of developing lung problems are aged between 55 to under 75 who smoke or used to smoke and live within Bassetlaw.