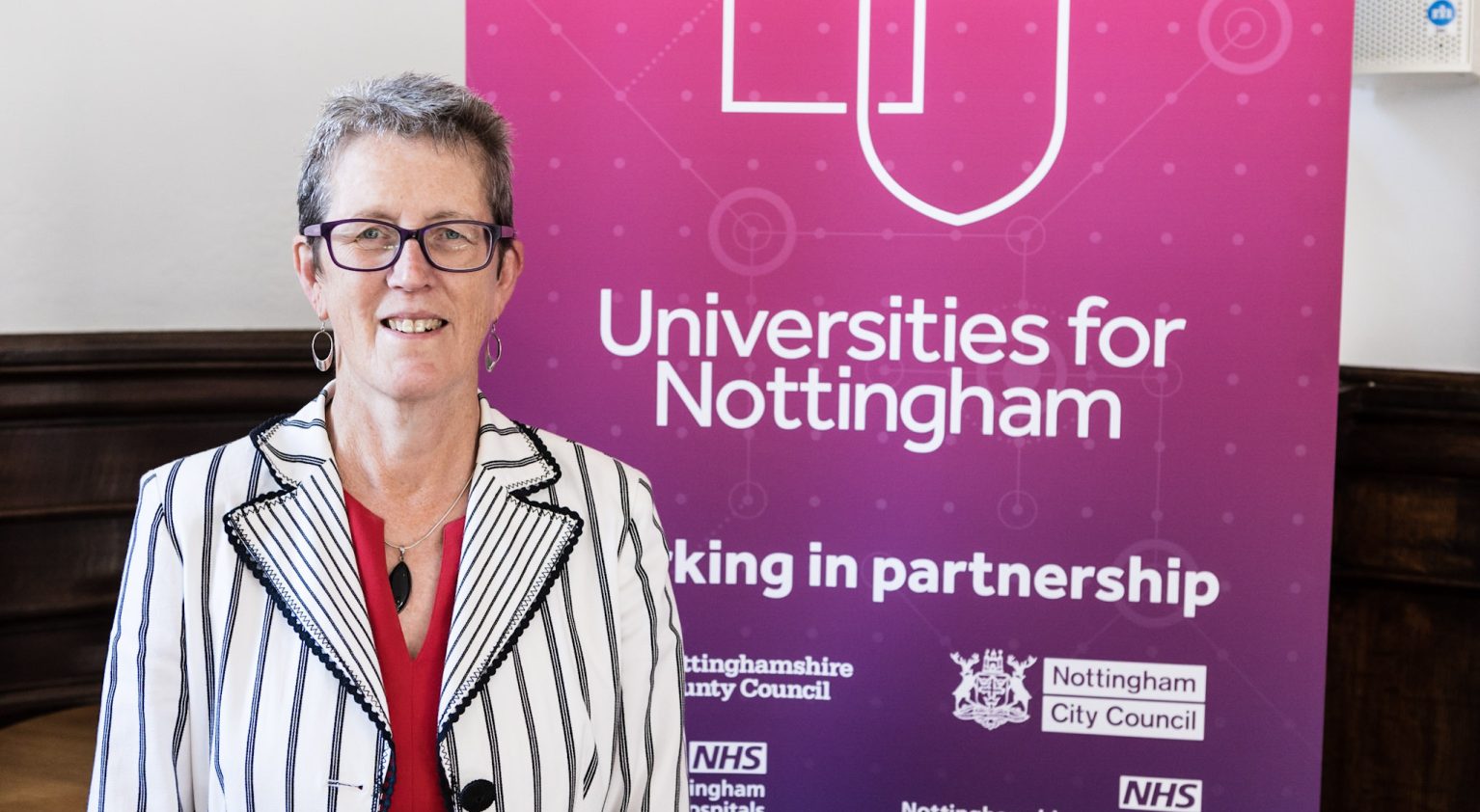 Universities for Nottingham Leaders' Forum – A Partner's View from Kathy McLean
Kathy McLean, Chair, Nottingham and Nottinghamshire Integrated Care Board reflects on the recent Universities for Nottingham Leaders' Forum meeting
The Leaders' Forum of the Universities for Nottingham Civic Agreement partnership met recently for one of our bi-annual meetings. The Forum brings together the Leaders, CEOs, Chairs and Vice Chancellors of the Civic Agreement signatory partners to review progress against the Agreement, horizon-scan for future challenges and opportunities and discuss collaboration. This June's meeting though, was the first in-person session for over two years and really highlighted for me, not just the value of the activity taking place under the UfN banner, but the value of working in partnership and being able to come together to discuss the challenges facing our City and County.
I chair the newly established Integrated Care Board (ICB), a statutory organisation bringing the NHS and local authorities together locally to improve population health and establish shared strategic priorities within the health and care system. We're well used to working in partnership with other NHS bodies and with the Local Authorities, but the broader partnership that UfN brings together, particularly with the involvement of the Universities, gives us even more opportunity to tackle the challenges – and maximise the opportunities – we might not otherwise be able to as individual organisations.
Take the recent Leaders' Forum. We were able to have a wide-ranging discussion around workforce development, future skills needs and the career pathways in health and social care, with each leader offering varied and valuable perspectives. We focused particularly on the social care sector and the need to raise the profile of this profession. If we can develop local solutions, it's an issue which will have a massive impact on the health and wellbeing of our communities as well as the lives and careers of our social care workforce.
Working in partnership with other local anchor organisations is key to unlocking some of the changes we wish to deliver for our local populations. For example, our shared dialogue under the UfN initiative around clinical skills gaps in the local healthcare workforce has already led to the universities helping us to tackle this by offering additional nursing training places, particularly focused on the identified shortage of adult, mental health and learning disability qualified nurses. It's clear to me that keeping these constructive channels of communication flowing will be key to our success, and our shared commitments under the UfN Civic Agreement offer a fantastic opportunity for ever deeper and stronger collaboration.