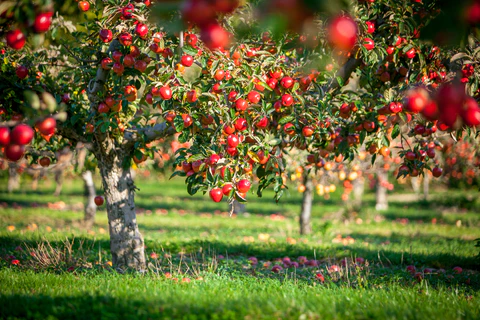 Sherwood Forest Hospitals Hope Orchard – Planting hope for the future
Sherwood Hope Orchard was launched in 2021 and since then over 200 fruit trees have been in planted here at SFH, by our staff, family and friends in their own gardens, by local partners including Notts Health care trust, Samworth Academy and many other schools.
The Hope Orchard links the importance of healthy food, exercise and general health and wellbeing with positive action to address the climate crisis. We know that the Climate crisis is a health crisis. We recognise that Sherwood Forest Hospitals NHS trust is a community of staff and patients and part of the wider local community.
Help us blossom. Join us in planting your own fruit trees and register them at the Sherwood Hope Orchard. Please let us know at: sfh-tr.communications@nhs.net if you plan to plant a tree this spring. Please also send us your photos and comments, and of course shout out about it on your own networks. Together we can create Hope for a healthy community and reduce the impact of climate change.
For more information please visit our webpage Sherwood Forest Hospitals (sfh-tr.nhs.uk)