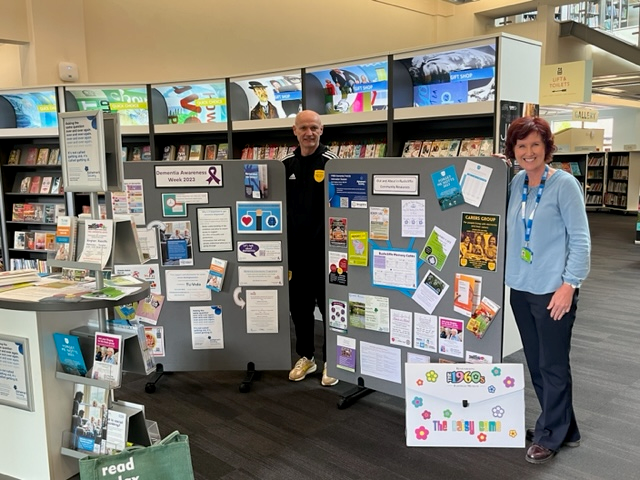 Rushcliffe PCN showcase dementia support!
Earlier this month (May 2023), the Rushcliffe PCN team held an exhibition and drop-in session at West Bridgford Library during Dementia Action Week.

The event was organised by Rushcliffe Borough Council Health Development Officer Sofi Melvin, and Gwynneth Owen, project lead for the Rushcliffe Dementia Project. The aim of this project is to support local people living with dementia and their carers to live better more independent lives for longer, through easier access to timely, high quality, individualised support.
The project has our PBP Clinical Lead, Dr Jill Langridge as its Clinical Lead and is being led by Gwynneth from the Rushcliffe Social Prescribing Team, seconded to the post for the 2 years. In order to be a sustainable project, one big piece of the project's work is to make Rushcliffe PCN a Dementia Friendly community. Training is available to help groups and organisations ensure they are dementia friendly and encourage our communities to be more inclusive.
Gwynneth has already made an impact, bringing together advice and support from across the Borough and promoting to local people. She hosted the Dementia Awareness Drop In Event on Tuesday 17 May where she welcomed local people to find out more about the help and support available.
Gwynneth said: "As part of Rushcliffe becoming a dementia friendly community, we are really trying to get people involved with Dementia Friends Information sessions. All our PCN partners have said yes to offering this to all their staff in this first year. So now we want to get libraries and local people involved.
As part of the project, through a network of local groups, the idea for something new is emerging, Gwynneth explains: "We've recognised that we have seven memory cafes, which is fabulous, and we thought let's do a green memory café on a seasonal basis, thinking about the outdoors and green spaces and the benefit this can have for people. This Green Memory Café will be launched on June 21st at Rushcliffe Country Park (see poster here and picture below shows Gwynneth and volunteers at the Green Memory Cafe introduction and planning meeting).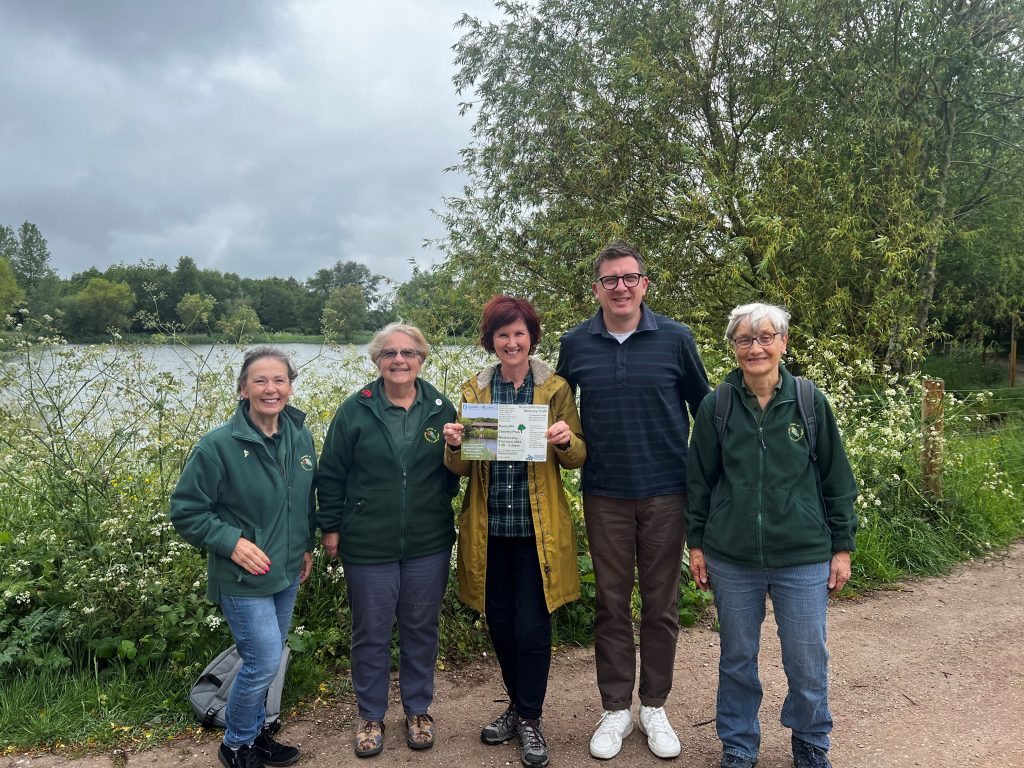 "We've also created a Dementia Directory of support for people with dementia. We have this on the PCN website and Notts Help Yourself website and is hopefully a one-stop-shop for dementia support and advice."
Gwynneth was joined at the Dementia exhibition at West Bridgford library by Ian Richardson from Trent Bridge Community Trust who run the Forget Me Notts project, which offers free sporting activities and social interaction sessions for those living with dementia and their carers.
Ian said: "We offer sports like indoor bowls or table tennis, seated dance and board games, whatever people feel they want to do. And carers can have a cup of tea and chat to one another. The sessions are getting busier and busier. We also have a carers group in Cotgrave and run workshops and provide support from healthcare professionals to provide information and support." You can find out more about Forget Me Notts project here: The Trent Bridge Community Trust: Forget Me Notts You can find out more about the support available on the Rushcliffe PCN website.