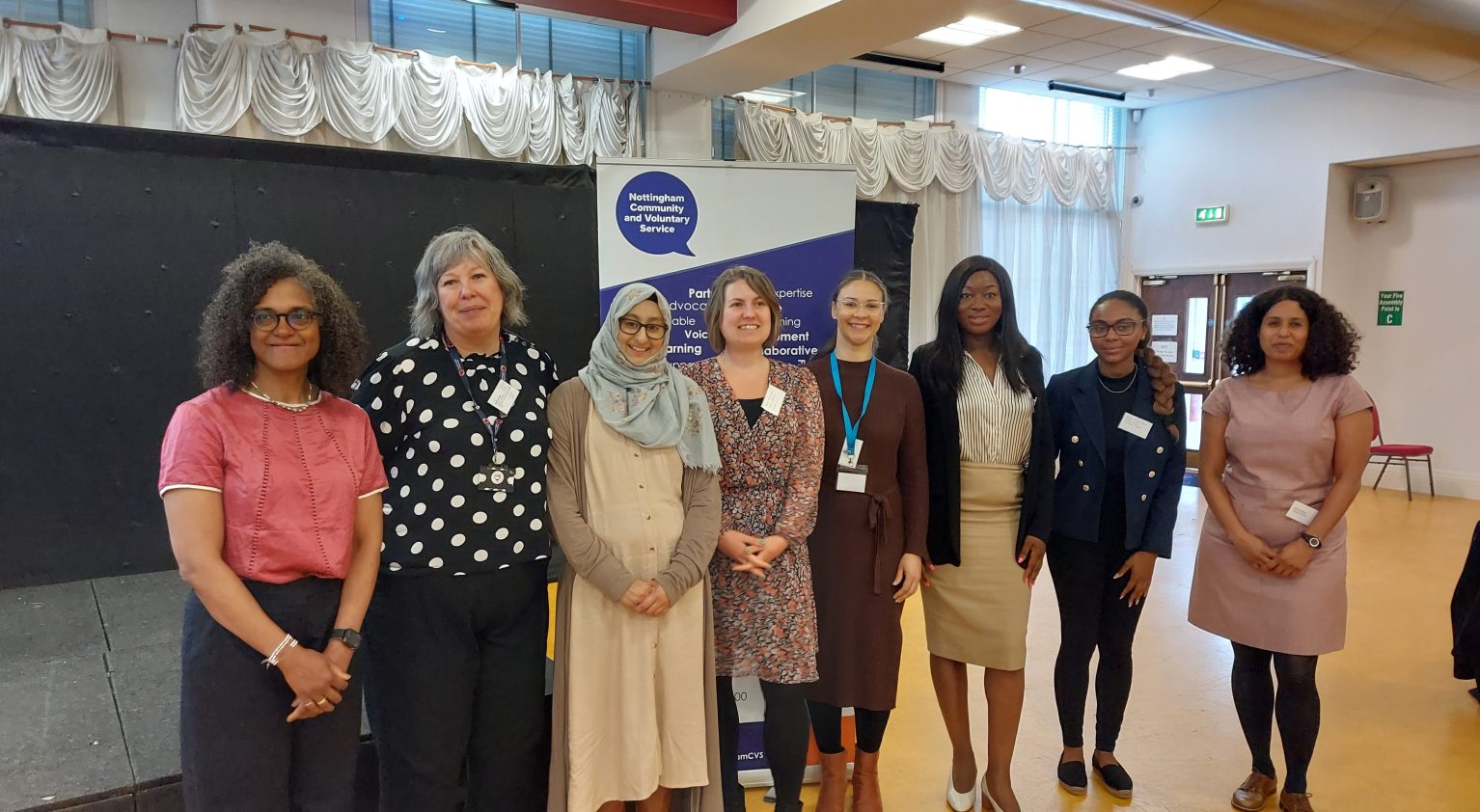 Race Health Inequality Summit
On 11th May, we held our first Race Health Inequality Summit. The event, led by Nottingham City Voluntary Service, brought together leaders from across Nottingham to discuss how race affects people's health outcomes and the healthcare people receive, and what steps we can take as a partnership to address these inequalities.
As well as powerful talks from a range of expert speakers, it was a great chance for partners representing different organisations from the public and voluntary sectors to come together and make valuable new connections. We saw a fantastic turnout, with over 200 people in attendance – a testament to the passion there is within the city to making healthcare better for everyone.
Race health inequality is a particular issue in Nottingham, with local data shining a light on how race can affect a patient's health outcomes.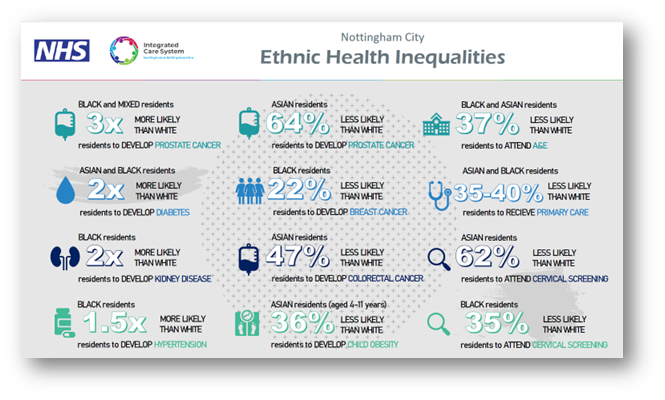 The summit provided an opportunity for partners to address some of these issues. The day had a particular focus on mental health and maternity care, where health inequalities are known to disproportionately impact people from minority communities.
Serena Coultress from Nottingham City Council's public health team set the scene by using available data to outline the scale of race health inequality in relation to mental health. For example, black and Asian people are much more likely to be diagnosed with schizophrenia than white people. We then heard from, Penelope Siebert from Nottingham Trent University who introduced the Better Health Project 7, a targeted communications project that aims to improve awareness and engagement in mental health services for people from black, Asian and minority ethnic communities.
Next up was the official launch of the PBP Race Health Inequalities Maturity Matrix led by PBP programme leads, Clive Foster MBE and Donna Sherratt. This bespoke tool, designed in partnership between community representatives and PBP partners, is already being used by individuals, organisations and systems to assess their cultural competence and shape action plans to improve. We are pleased to say that 30 organisations signed up to adopt the matrix by the end of the Summit.
Lunch and networking followed and guests had the opportunity to visit with the more than 15 voluntary and community organisations in the marketplace. The energy and passion were palpable and the commitment to working together to find solutions was clear.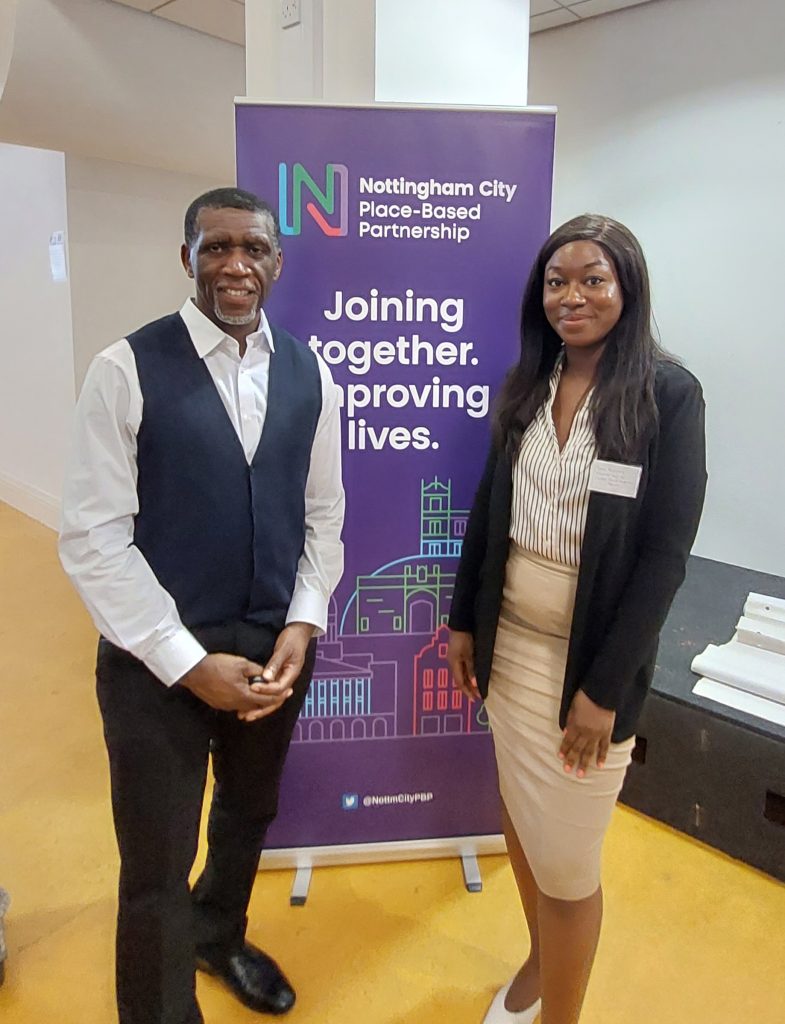 After lunch we were delighted to be joined by speakers who took a detailed look into how race inequalities affect maternal health for both the mother and the child. Agnes Agyepong from Global Black Maternal Health, Gemma Poole from The Essential Baby Company, and Manisha Steth from Support Me, all gave powerful talks on how people from certain communities can have poor birth experiences due a lack of awareness of their cultural needs and systemic inequalities.
Sharon Wallis, Director of Midwifery at Nottingham University Hospitals (NUH), spoke about the work the trust are doing to address these inequalities as part of the Ockenden Maternity Review. This includes the measures they are taking to increase representation from minority communities in their workforce and increasing awareness of cultural sensitivities around giving birth across the workforce.
These talks led to some great discussions on what the PBP could do to support all of this important work. There was a call to action to system leaders to make connections with communities to be the change that is needed.
We were also treated to an inspirational talk from Bilborough Councillor, Faith Gakanje-Ajala. She spoke passionately about her experiences facing discrimination when moving to the UK from Zimbabwe, and her ambition to improve outcomes for all minority communities in the city. She was joined by her counterpart from the African Womens Empowerment Forum (AWEF) Aruna Birch, who spoke of her 35 year journey in the UK and that it had long been her wish to attend a Race Health Inequalities Summit. Members of AWEF were an important part of the steering group that was integral to making the day a success.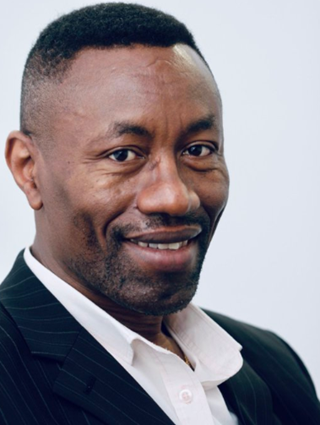 Clive Foster joined others throughout the day, by paying tribute to Leslie McDonald. Leslie was an inspirational figure who held an unwavering commitment to seeking health equity for all of Nottingham's communities.
Leslie's involvement in the PBP has ensured that all partners of the PBP are focused on addressing Race Health Inequalities – he was instrumental in setting up the PBP programme. Leslie sadly passed away in April and will be deeply missed by all that knew him. In his concluding remarks, Clive noted that it is now the responsibility of all of us to continue Leslie's legacy through this work.
So what's next…..
Once all of the rich conversations, insights from the presentations and event evaluations are analysed the PBP Race Health Inequalities programme will have a blueprint to take forward.
If you would like to know more about this work or you would like to be directly involved please contact juless@nottinghamcvs.co.uk.
On behalf of the PBP, Clive Foster, MBE and Donna Sherratt, we would like to thank everyone involved in making this day a huge success.