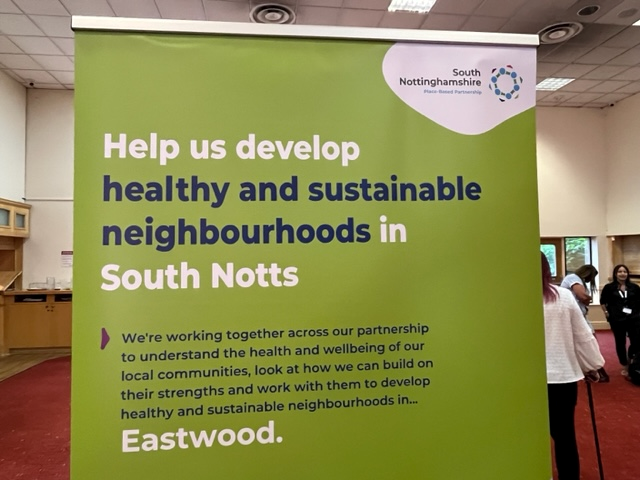 PBP hosts first integrated neighbourhood event!
On Thursday 13 July, we held our first integrated neighbourhood event at the Richard Herrod Leisure Centre in Carlton. Over 80 people joined us at the event, including colleagues from health and care, local communities and the voluntary and community sector, to discuss how we can create healthy and sustainable neighbourhoods in four key areas – Arnold, Cotgrave, Eastwood and Hucknall.
An integrated and sustainable neighbourhood is a place in which most people's daily needs can be met within a short walk or cycle, a place where resources are matched to the areas of greatest need and where local people are enabled to live a healthier lifestyle.
The aim of the event was to start to bring people and services together to meet the needs of the local population through working together in the area and addressing the wider determinants of health and wellbeing. As conversations develop, we hope to test a model of working that can be applied elsewhere in South Nottinghamshire.
The event was hosted by NHS Horizons and there were lots of interactive activities to encourage people to get talking about ways we could work to support the health and wellbeing of people in each area, noting there will be differences in each.
There was a real buzz to the event and it was clear that everyone cared about their neighbourhoods and really wanted to make a positive contribution to improving the health and wellbeing of local people. Place-Based Partnership Programme Director Helen Smith said: "This was a brilliant start in getting people together to discuss how we can create more integrated working of services, organisations and communities across the four neighbourhoods. The breadth of perspectives of people in the room was invaluable in beginning to understand what was working well, the challenges and the opportunities in each of these very unique areas.
"We also looked at how we could bring communities and services together and started to examine the priorities for each of the towns. I'm really looking forward to continuing with more focused work in each of the neighbourhoods with wider local representation."
Look out for the all the feedback from the event and the next steps in the next South Notts PBP newsletter.