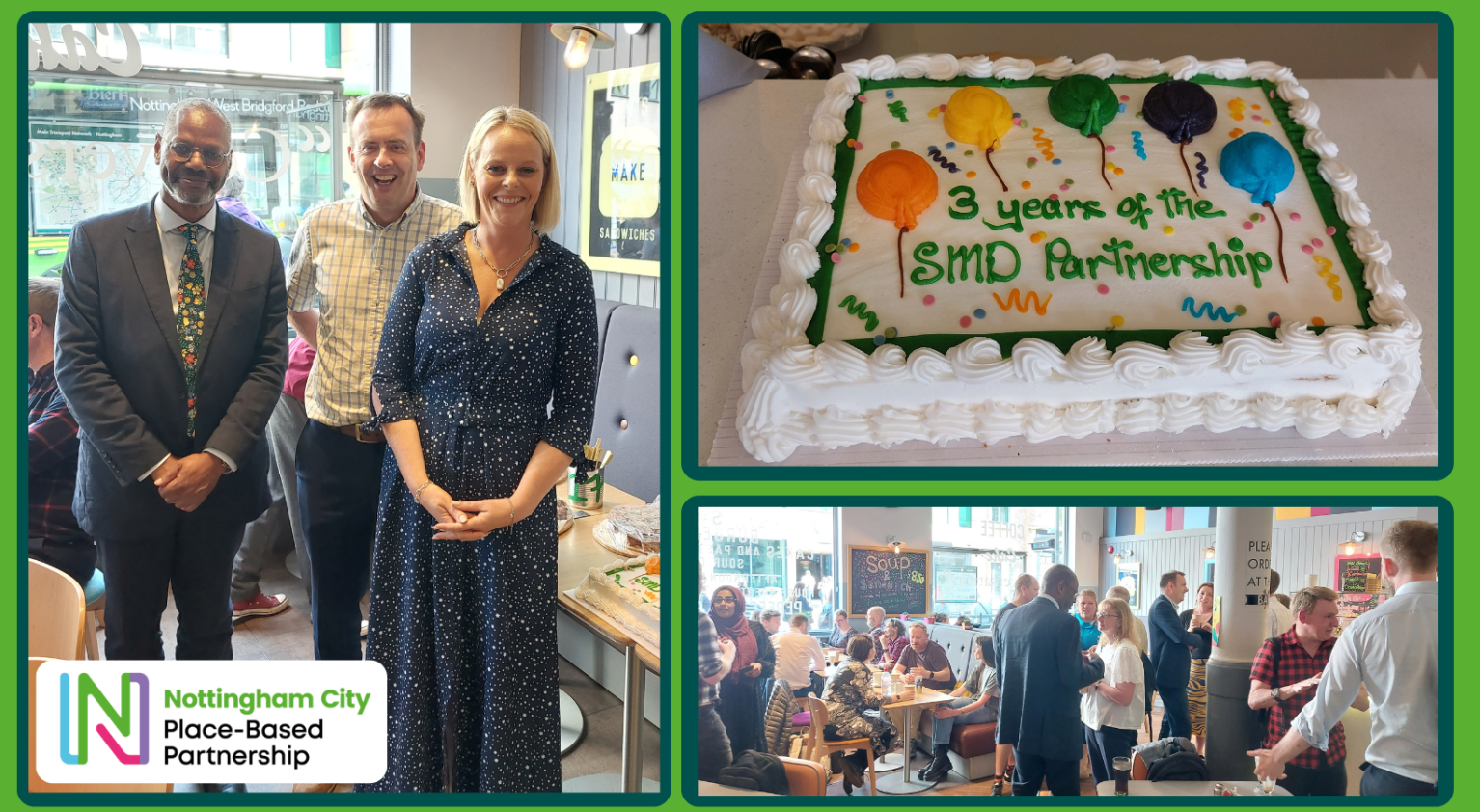 Celebrating 3 Years of the SMD Partnership!
On Wednesday 12th July, we celebrated the three-year anniversary of the Severe and Multiple Disadvantage (SMD) partnership.
The SMD partnership is a collaborative network made up of a range of organisations and people with lived experience across Nottingham City with the goal of joining up services in the city to ensure that people experiencing SMD receive flexible, person-centred care from the right services, at the right time and in the right place. The term SMD recognises that it is not unusual for people to experience multiple complex issues such as homelessness, substance misuse, mental ill-health, offending and experience of domestic or sexual violence at the same time.
The SMD partnership was born out of the work undertaken by partners as part of the 'Everyone In' initiative and has grown from strength to strength. Now with a membership of over 140 people, the SMD partnership has been successful in securing over £5m in funding through the Department for Levelling Up, Housing and Communities' Changing Futures programme and is also responsible for the delivering in the Nottingham City Place-Based Partnership's (PBP), SMD programme. Read the partnership's delivery plan here
To celebrate, we held a birthday party for the partnership at Cafe Sobar in Nottingham. This event was a chance for partners and beneficiaries to come together and celebrate their achievements over the past 3 years. There were many discussions about the specific challenges partners working with people who experience SMD face, but also the opportunities that working together has given the partnership. There were lots of ideas for how the partnership can adapt in order to handle current and future challenges.
We were delighted to be joined by Mel Barrett, Nottingham City PBP Lead and Chief Executive of Nottingham City Council. Mel has been unwavering in his support for the partnership since its inception and spoke passionately about its importance in the city. Dr Hugh Porter, Clinical Director for the PBP, also shared his insight on the partnership's development over the past three years.
There was special tribute to Jane Bethea, Consultant in Public Health at Nottinghamshire Healthcare NHS Foundation Trust, a key figure in Nottingham, who has led the SMD programme since its inception. Launching the partnership in the midst of the Covid-19 pandemic, Jane's vision and endeavour has been essential in ensuring the success of the partnership and helping countless people in Nottingham. Jane is soon to be leaving her role and will be greatly missed by everyone involved in the partnership.
We hope all the attendees had a great time and had the chance to reflect of the incredible work they have done over the past three years.