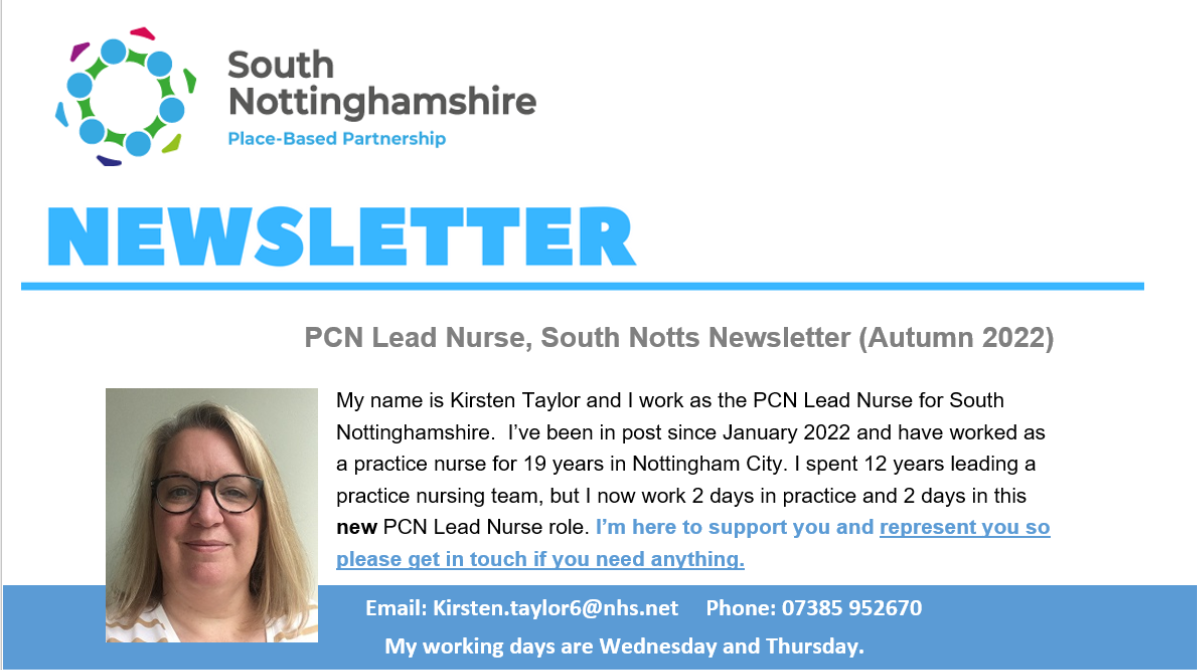 Nurse lead launches new Practice Nurse newsletter
Earlier this year, we introduced you to our new PCN Lead Nurse, Kirsten Taylor, who is working across all of the six Primary Care Networks.
Kirsten, who has been working as a nurse since graduating from the University of Nottingham in 1998, has been working with our partnership for a while now and has recently launched a new Practice Nurse Newsletter, which she will be sharing across all the South Notts practices.
Explaining her role to South Notts PBP News in May, Kirsten said: "I've been working part-time as the PCN Lead Nurse for South Notts since January 2022, alongside working as a practice nurse for two days a week.
"As the PCN Lead Nurse I am working across the six South Notts PCNs and my role is to improve networking and engagement of practice nurses within PCN's, provide information and resources to practice nurses and encourage their development.
"I also represent practice nursing at some of the decision-making groups within the South Notts locality and the wider Integrated Care System, working closely with the ICS Practice Nurse Leads.
It's really important to have the 'voice' of practice nursing represented in these groups and I feel privileged to be able to do that. Nurses have a unique and valuable insight into the places and people we work with, and we should be empowered to share that knowledge when commissioning and strategy decisions are made."
Read the Practice Nurse Newsletter here.