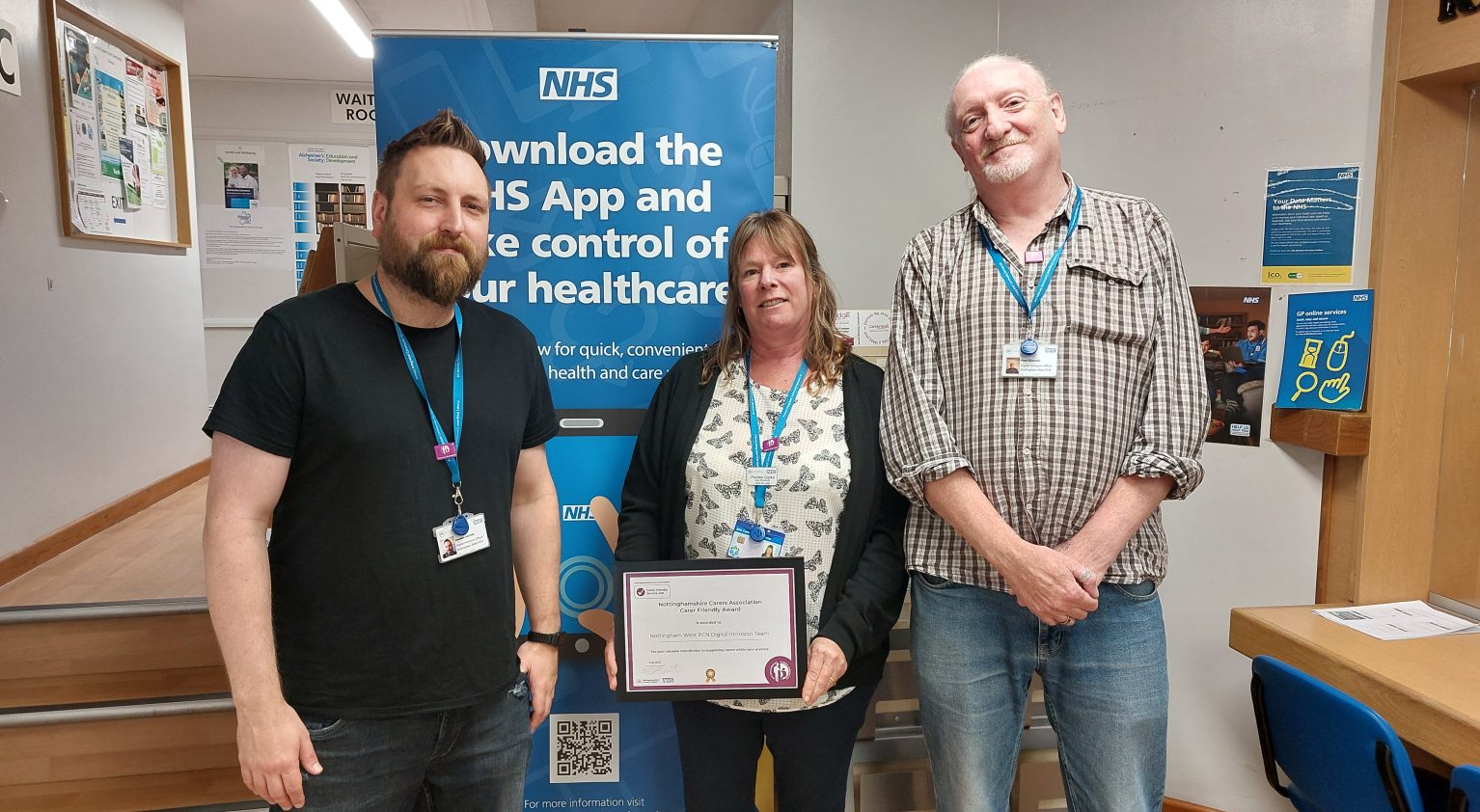 Joint monthly shout-outs
This month we have awarded a joint shout-out to two teams who are demonstrating great work:
The Digital Inclusion Officers (DIO) Team from Primary Integrated community Service (PICS)
The team has identified and supported patients in the Nottingham West PCN, who either lack basic internet access skills or availability to set up and use effectively the NHS app. This has improved access for patients and carers and enabled them to have more control of their own health needs and support.
The DIO team has offered 121 support to patients at local weekly drop-ins, roadshows, flu clinics and pharmacies. They are also working closely with GP practices to deliver patient support, which is helping to save time and money for the practices.
All of the DIO team have also accessed carers awareness training and resources from Nottinghamshire Carers Association and have become NHS Carers Champions to continue to foster inclusivity and provide support, and seek to enhance the lives of unpaid carers relating to the challenges they may face when accessing digital healthcare
Bassetlaw Enhanced Health in Care Home Team
The Care Home Model moves away from traditional reactive models of care delivery towards proactive care which is centred on the needs of individual residents, their families and care home staff. This approach is achieved through a whole-system, collaborative approach.
The Team has developed strong relationships with all the care homes and GPs in their areas and attends weekly MDT meetings. It is helping to make improvements include a reduction in falls and increasing training for care home staff to help them care for their residents.
One care home deputy manager said: "It's an invaluable resource that enhances the care and continuity of our residents lives immensely. We now have a point of contact with the wider team, access to full holistic assessments within seven days of admission, regular visits from yourself and the team and we feel really supported in everything we do.
"The training that the enhanced health in care homes team provides and supports us with is of top quality and every member of your team is approachable and accessible. I honestly don't know how we would manage without you now."