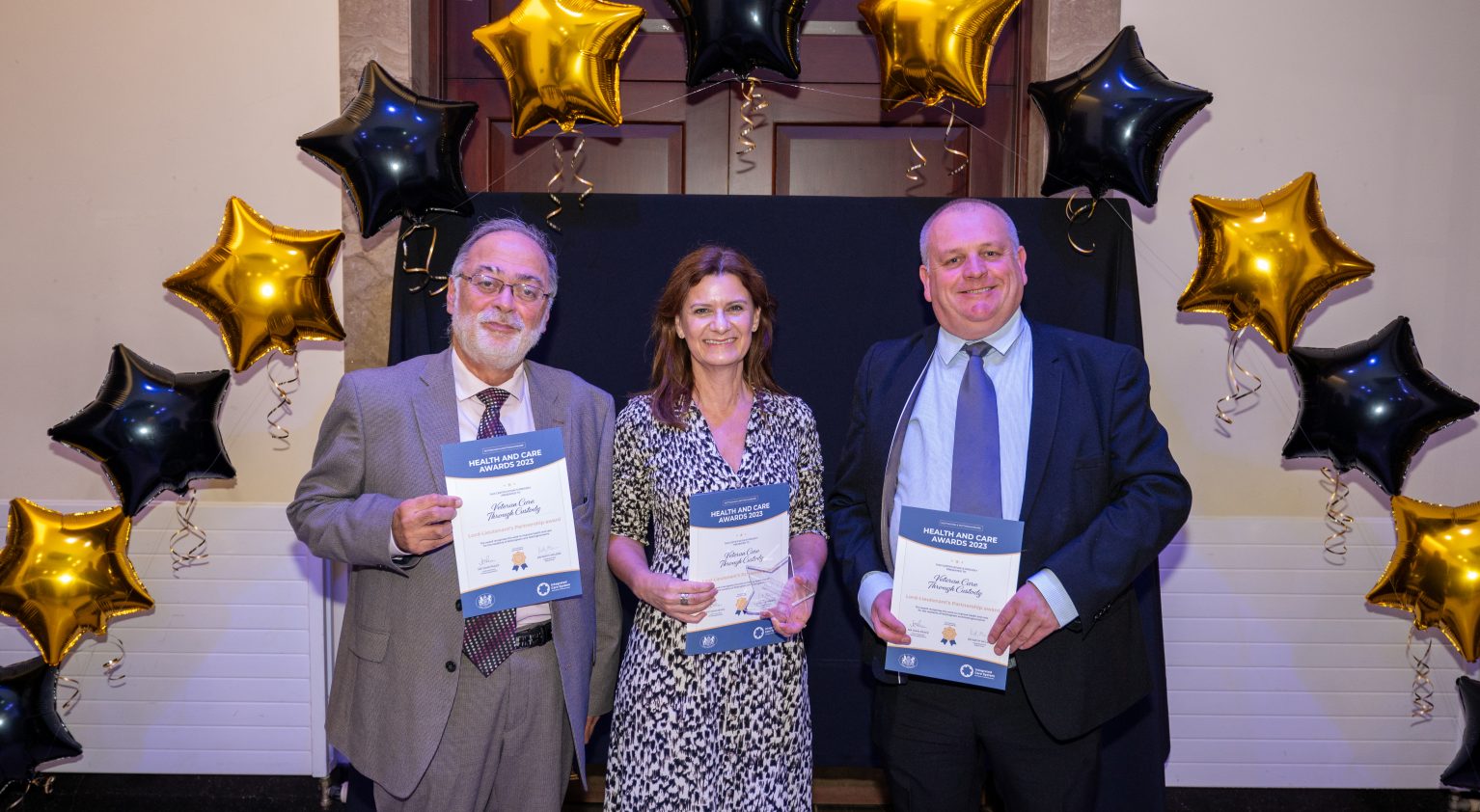 Health and Care Award winners announced
Seven projects and services have been named winners in the first ever Health and Care Awards for Nottingham and Nottinghamshire, with one of these crowned the overall winner.
The awards ceremony took place at Nottingham University last night and involved organisations from the health, care and voluntary sector.
The category winners are:
Health inequalities award: Targeted Lung Health Check project team, NHS Nottingham and Nottinghamshire
The Targeted Lung Health Check service invites people aged 55 to 74 who have ever smoked to a lung health check and CT scan. The aim is to identify lung cancers and other respiratory diseases at an earlier stage when there is more chance of curative treatment.
The judges were impressed by the work carried out to make the lung health checks accessible to those communities who need them. The team works proactively to build up local knowledge of an area to identify the most convenient community locations and target specific community groups. This has resulted in an average uptake rate of 74% – the highest in the country.
Social value award: Family Mentor Service, Small steps Big Changes
Family Mentors are a highly trained paid peer workforce that deliver an evidence-based programme of child development and preventative health support to parents of 0—4-year-olds. The judges felt this was an outstanding entry with real evidence of outcomes and impact. Knowing the struggles many families face today, this approach is making a meaningful difference and embodies the essence of the category.
Equity award: The BAME wig project, Nottingham University Hospitals Trust
This Nottingham University Hospitals Trust project worked with people with lived experience to tackle an issue that impacted on the dignity of BAME patients. The
judges applauded the positive outcomes and also the way the team has extended the project to cater for all patients and staff suffering from alopecia.
Value for money award: Promoting Independence Service, Bassetlaw Action Centre
This service, provided by Bassetlaw Action Centre, offers practical interventions to help people regain their independence following a hospital stay. The judges commended the contribution the service makes to saving around £680,000 to the healthcare system every year in reduced hospital bed days.
Lord-Lieutenant's partnership award: Veteran Care Through Custody, Nottinghamshire Healthcare Trust
The Veteran Care through Custody project offers specialist healthcare and holistic wraparound services to veterans in prison. The judges were impressed by this unique partnership between the Offender Health team at Nottinghamshire Healthcare Trust and the veteran's charity Care after Combat which has so far transformed the lives of almost 500 veterans in Nottinghamshire and the East Midlands.
Best outcome award: One version of the truth data, Nottinghamshire County Council, Nottingham City Council and NHS
This multi-disciplinary project has developed a 'one version of the truth' hospital discharge dataset agreed by all partners. This supports collaboration across the wards and the multi-disciplinary Transfer of Care Hubs in managing the timely, safe and appropriate discharge of older people from hospital. This has supported better practice and decision-making and is helping more people to go directly home, in a shorter time.
Prevention award: Bassetlaw Food Insecurity Network, Bassetlaw Community and Voluntary Service
This entry demonstrated a partnership approach to establish food hubs, cooking classes, social eating events and community allotments to tackle isolation and promote mental wellbeing and address food insecurity. The work has been developed with the local community to understand the needs of residents and is being promoted to other areas as an example of best practice.
One entry, Veteran Care Through Custody, has been crowned the overall winner thanks to its innovative partnership approach and the incredible impact the project has had on 500 veterans living locally.
Dr Jane Jones, from Nottinghamshire Healthcare Trust, works in the Veteran Care Through Custody Team. She said: "We work with military veterans in prison, military veterans who have fallen on hard times. We're there to support them and make sure that when they reintegrate back into the community, it's successful in the way that coming out of the forces wasn't for them.
Phil Loader, from Care after Combat, said: "It's been an honour to work alongside the military care through custody team. Their dedication is an inspiration to all of us and we work so well together, we understand each other's goals – all for the benefit of the veterans that we are helping, week in, week out. The dedication of the NHS team cannot be quantified.
"To see a veteran come back to the office weeks down the line and say, 'without you, I wouldn't be standing here now', it means everything, just to see that – you can't get a better feeling than someone saying thank you for saving them."
Kathy McLean, Chair of the Integrated Care Board, said: "Congratulations to all our winners, who have demonstrated that partnership working is having a genuine impact on the people of Nottingham and Nottinghamshire. I've been blown away by the quality of entries we've received and it's been fascinating to speak to so many people who are doing excellent work to help improve health and care for local people."
Sir John Peace CVO, Lord-Lieutenant of Nottinghamshire said: "I am impressed and reassured that in Nottingham and Nottinghamshire we have so many skilled people committed to working together to ensure the best outcomes for communities and individuals. I am proud of all who, through these Awards have been able to demonstrate their excellent work. Thank you."
ENDS
For more information contact julie.cuthbert2@nhs.net or 07901 513299