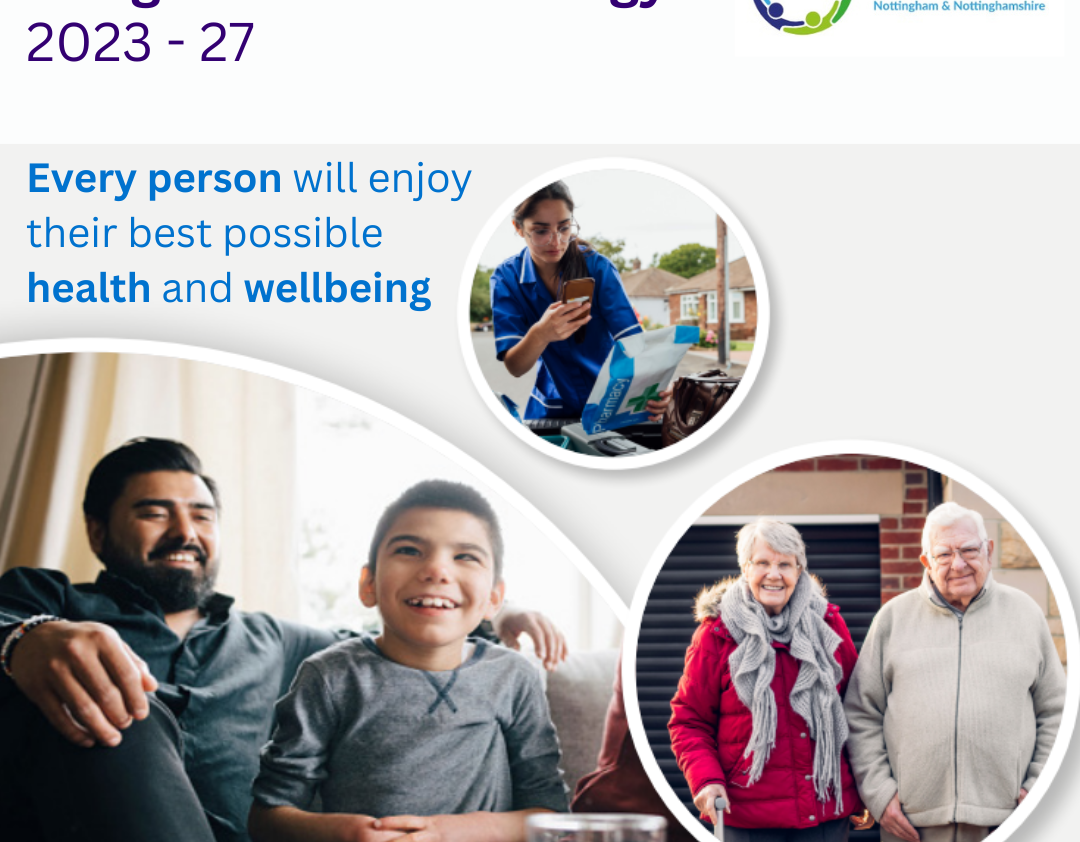 Improving health and wellbeing in Nottingham and Nottinghamshire
Health and care organisations in Nottingham and Nottinghamshire have signed up to a new Strategy this month to improve the health and wellbeing of local people.
The Integrated Care Strategy provides an ambitious vision to improve population health and healthcare outcomes; tackle inequalities in access, experiences and outcomes; enhance productivity and value for money; and support social and economic development in communities.
The Strategy, which runs until 2027, was developed following extensive engagement with local people, communities and key stakeholders. It also links in with the Joint Health and Wellbeing Strategies for Nottingham and Nottinghamshire.
Kathy McLean, Chair of the Integrated Care System, said: "Health and care organisations are already doing some fantastic work to join up services, improve outcomes and reduce health inequalities for our local people. This Strategy sets out how we will build on this and includes ambitious targets for each of the key areas.
"We have three guiding principles for all of this work. We want to focus on prevention, we want to tailor our approach to people's needs in order to make things fair and we want to work in a more integrated way to ensure that local people have care that is joined up around them.
"We also need our citizens to play their part and think about positive changes they can make to improve their health and wellbeing. This could be by exercising more or cutting down on alcohol, tobacco or unhealthy foods. Or it could be something that protects our local environment, like recycling more or driving less. We're asking the public, staff and stakeholders to make a pledge for what they can do differently. Every action helps."
Five-year ambitions include:
Supporting children and young people to have the best start:
A reduction in the proportion of women smoking at the time of delivery
An improvement in breastfeeding prevalence at 6 – 8 weeks after birth to 56% average in Nottingham and Nottinghamshire
A stabilisation of the rising rates of obese and overweight children in year six to a 2.7% rise from the 2021/22 baseline
Supporting frail older people:
5% reduction in emergency hospital admissions
100% discharges made on the same day or next day the person was deemed medically fit for discharge
Supporting children, young people and adults with the greatest needs:
At least 75% of people aged 14 + with a learning disability will have had an annual health check
Focus on prevention:
A smoke free generation by 2040
10% reduction in alcohol-related hospital admissions from 2020/21 baseline
Establish a single health and care recruitment hub:
A reduction in ICS health and care staff turnover rate to 10% by March 2028
An increase of 10% in the number of jointly employed health and care posts
Add social value:
80% carbon net zero by 2028-2032
100% carbon net zero by 2040
Ensuring over 90% of our owned or leased fleet vehicles under 3.5 tonnes are low emission vehicles, and 5% of those will be ULEV or ZEV (ultra-low – or zero- emission vehicles).
The Integrated Care Strategy and Summary document are available on our strategy pages. You will also find case studies, an explainer video and more information.