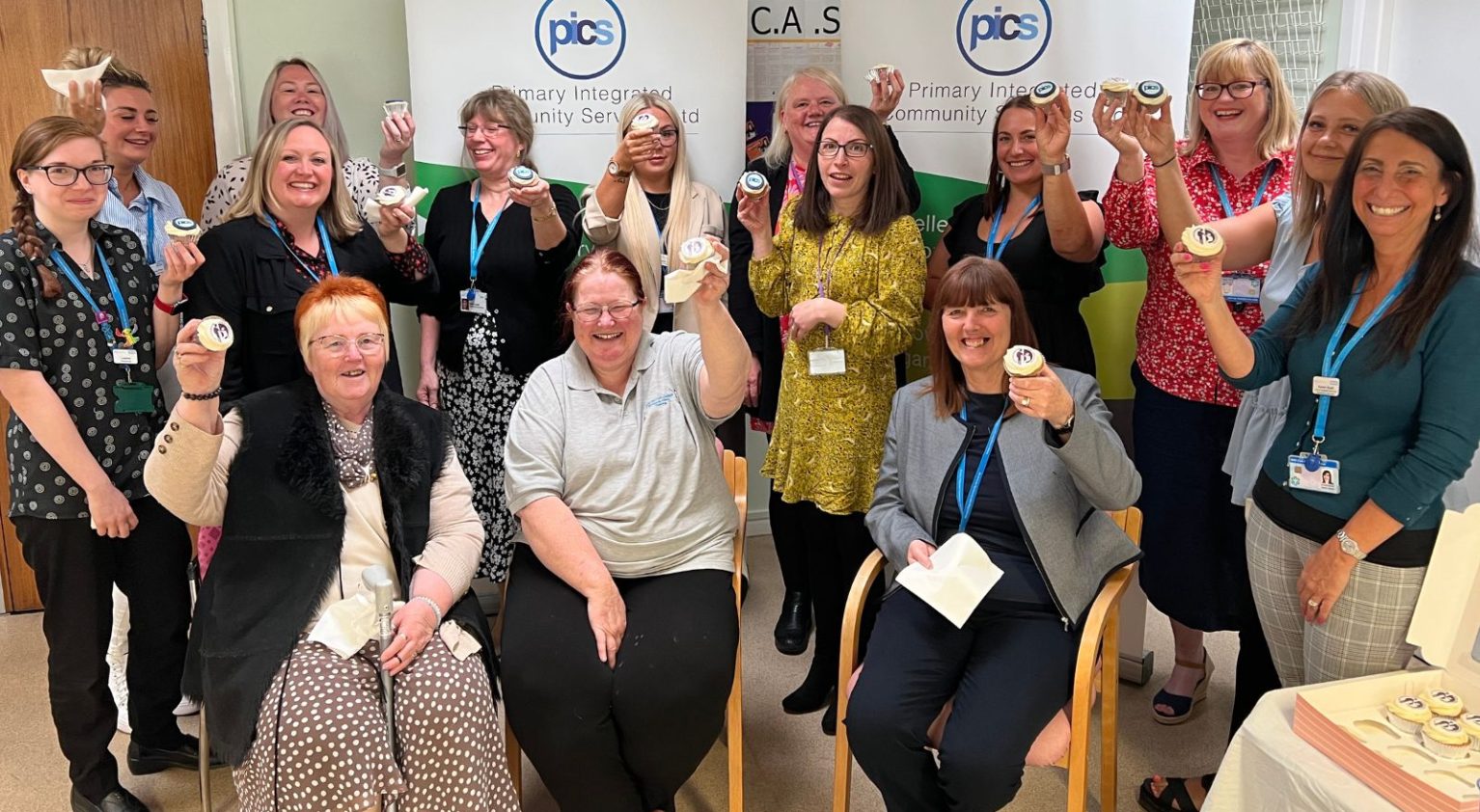 Hucknall Carers thank health workers for 'outstanding achievement' 
Local staff in primary and community services praised by residents and Nottinghamshire Carer Association for 'powerful and valuable' support of carers.
On Tuesday 6 June, Hucknall residents and carers Marilyn and Nicola Clifton, presented local healthcare provider Primary Integrated Community Services (PICS) with an Outstanding Achievement Award from Nottinghamshire Carers Association. PICS is now "Carer-friendly" accredited across the whole organisation, reflecting the "powerful, consistent and valuable contributions PICS teams in general practice, primary and community services make for carers in the communities it serves, and for its staff who are carers."
GP Receptionist Leanne Haywood was also presented with a special award for all PICS Carer Champions at Whyburn in Hucknall, Hama in Eastwood and Peacock in Carlton, recognising 'everything they do across GP surgeries to support carers.'
In 2022, PICS became the first organisation in Nottinghamshire and Derbyshire to be awarded Carer-friendly Quality Marks as an employer and as a service provider. This new award in 2023 reflects confidence that staff across PICS consistently 'do more than enough' to earn Nottinghamshire Carers Association's coveted top award for all 35 of PICS services. In South Nottinghamshire, this includes social prescribing in Nottingham West and Arrow, community clinics for pain and gynaecology, services for people leaving hospital such as heart monitoring and care navigation, and services delivered across GP surgeries including dietitian, pharmacy, physio and health and wellbeing coaches.
Carers week 2023 aims to recognise and support carers in the community. New data shows 19 million people in the UK with a caring role have never accessed support, with most being unaware of their caring status.
GP surgeries are vital as the first port of call for a carer who becomes concerned about their own health or the health of the person they look after. Over the past two years, PICS and NCA have worked together to provide training and resources for healthcare professionals in General Practice and in the teams within primary and community services that wrap around the surgeries. It's working! Notts Carer Hub has seen a massive increase in the number of carers being registered following contact with their GP surgery. Referrals from social prescribers have increased by 29 percent, with 'most of them from the PICS teams'.
PICS' invited registered carers to the celebration event to hear about their experiences. Marilyn Clifton, 76 from Hucknall, cares full time for her daughter Melanie, 3, who is non-verbal and disabled. Nicola Clifton, 48, helps her mother and sister, as well as running her own cleaning business. Two years ago, Marilyn's husband and Melanie and Nicola's father died from cancer following a period of illness. Read Marilyn's words as she explains how they were supported by their GP surgery: Carers help celebrate 'Outstanding achievement' of PICS staff
Nicola encouraged others to register as a carer: "We didn't know of any carer support but we do now. As a carer, I want to know where to go for the help and advice we need, so it's not just being at home and trying to google it."
Marilyn said: "We've learnt quite a bit – about the Nottinghamshire Carers Hub and the local carers group. My message to other carers is to go along to groups so that you can learn and help one another."
Stephanie Smith from Nottinghamshire Carers Association explained the impact: "PICS staff are excellent at having what can be a difficult conversation. It can be emotional, and you don't want to upset someone, but unless someone helps you recognise that you are a carer, we know that most people will never access support." 
Dr Kerri Sallis, Clinical Director for Byron Primary Care Network, said "This is fantastic recognition for the Whyburn team who have been working so hard in the background, finding and supporting people who look after their loved ones, friends and neighbours. Today we learned more about what works and where we can do more. I look forward to supporting more practices in the area to get carer-friendly accredited."
Karen Frankland, Managing Director of PICS thanked residents, staff and volunteers saying "I'm proud and privileged to receive this award on behalf of everyone at PICS. Making the journey better for residents and staff is at the heart of what PICS is all about. We know that caring is rewarding and that carers learn a lot of skills from their experience. We want to empower carers in Nottinghamshire and within PICS to live their life well, connect with their community, manage paid work, and feel appreciated."
Read more about the support PICS staff offer, and how the NCA are expanding their training offer to more groups in the community: Carers help celebrate 'Outstanding achievement' of PICS staff | Primary Integrated Community Services (PICS) (picsnhs.org.uk)