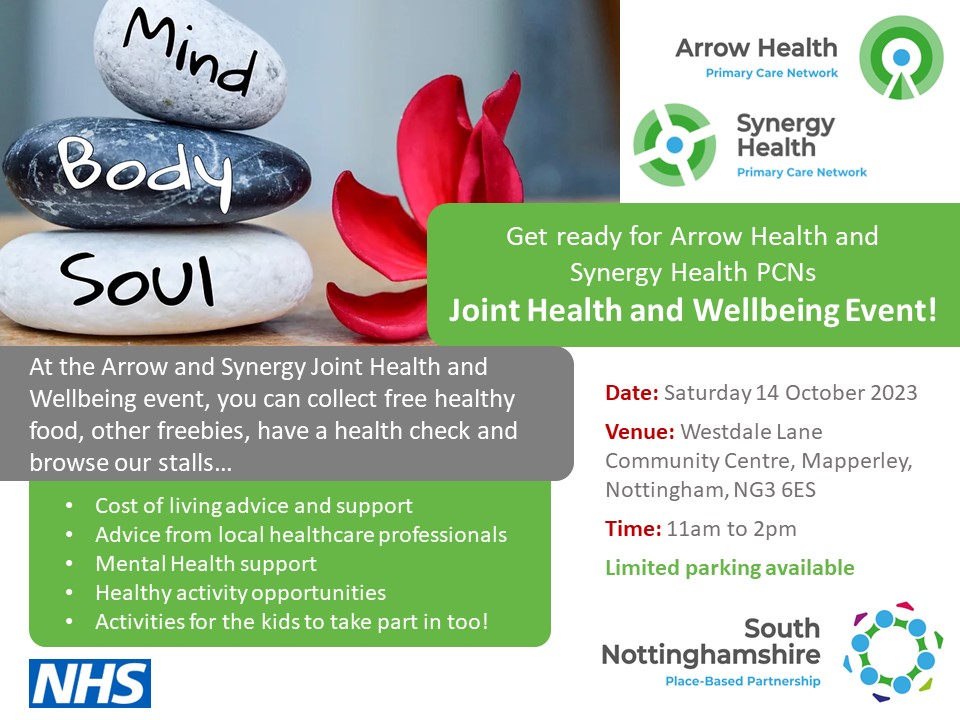 Gedling residents invited to health and wellbeing event
Two local Primary Care Networks (PCN) in Gedling (Arrow and Synergy) are hosting their first health and wellbeing event for local patients and residents.
A PCN is a group of GP practices working together with other local organisations, such as community, mental health, social care, pharmacy, hospital and voluntary services and alongside local communities, to provide integrated services to the local population.
The event is being held from 11am to 2pm at Westdale Lane Community Centre in Mapperley, with representatives from local health and care and voluntary organisations sharing information about their services and interactive sessions focused on wellbeing. On top of information from local services, attendees can also expect:
Cost of living advice and support
Advice from local health and care professionals
Health checks
Free healthy food and freebies
Sports and activity opportunities
Lots of things for the kids to take part in too!
Arrow and Synergy PCNs have worked in partnership with Gedling Borough Council, local NHS, South Notts Place-Based Partnership and local voluntary and community organisations to organise the event.
Arrow PCN Clinical Director Dr Umar Ahmed saying: "As two Primary Care Networks, we recognised, that if we came together along with other key local organisations, that we had an opportunity to put on an event that is open to our whole community to help tackle some of the issues that impact on people's wellbeing. We hope that by bringing so many organisations and experts together, we can support local people to make their health a priority.
"I hope that our patients and local people can find the time to join us on Saturday 14 October, to find out more about the support that is available and that by coming along to this event, you can access the help and advice you need to improve your health and wellbeing."