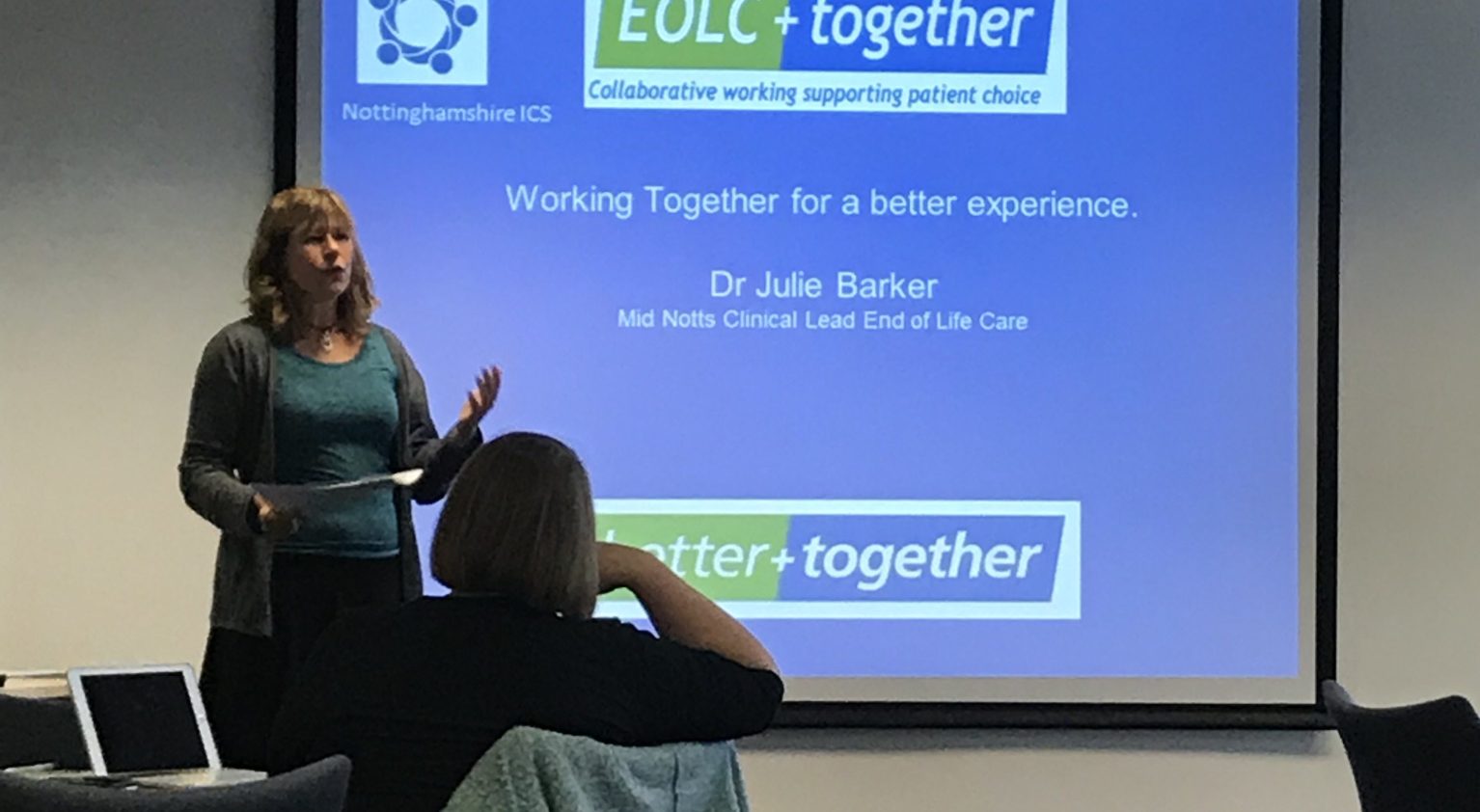 End of Life Conference a great success
End of Life Conference hailed a great success
Do you know how or where your loved ones would want to die, if they had the choice?
Death is one of the final taboos but around 100 NHS and care staff, along with members of the public came along to a special End of Life conference on October 3. Its aim was to highlight how the last days of life could be better for everyone across Mansfield, Ashfield, Newark and Sherwood through partnership working with organisations and full involvement with loved ones.
Julie McIntyre is a member of the public and Chair of the Patient and Public Engagement Committee (PPEC) who came and spoke about the importance of engaging the patient, their carers and loved ones. She said: "Engagement with patients and their carers at the outset of a service design ensures that their views are heard from and services meet their needs. This is why PPEC members have had a key role in the design and ongoing development of the End of Life service."
The conference was organised by the End of Life (EoL) Care Together team which is a new partnership initiative in Mansfield, Ashfield, Newark and Sherwood. NHS, bereavement and hospice organisations have worked together to develop the new End of Life (EoL) Care Together service which provides a single point of access to deliver care for patients and their loved ones at the end of their life.
The EoL Care Together team is one of the teams in the Mid-Nottinghamshire Integrated Care Partnership (ICP) working to make a positive difference to the people in Mid-Nottinghamshire. It aims for everyone to have the same choices and care in their final days of life regardless of where they live.
Julie Barker, GP and End of Life Clinical Lead presented on the day. She said: "This service ensures that we are being proactive and supporting a patient's choice and needs together with maximising quality of life. It is about partnership working across Mid-Nottinghamshire to respond to patients' needs, seeking solutions and planning their care. Crucially, the Patient Call support line is available 24/7 so that if needs change, urgent assessment and support can be obtained without having to go through 111. We aim to enable people to be confident in services both day and night as our partners work together as a big team."
Patient Call is a telephone number (01623 781891) providing advice and support 24 hours a day for the patient and the family. This was set up from October 2017 and the team will direct guide patients on making suggestions on services who can help them. This includes nursing, doctors, hospice and community support.
Partners who attended the day included:
Beaumond House Community Hospice.
Nottinghamshire Hospice.
Nottinghamshire Healthcare Trust
East Midlands Ambulance Service
Clinical Commissioning Groups
Patient and Public Representatives from GP Practices
Sherwood Forest NHS Hospitals Trust
Nottinghamshire County Council
MacMillan
John Eastwood Hospice
PICS
Nottingham/Nottinghamshire Integrated Care System
GPs
Cruse
If you have any queries about this please contact Kerry Beadling-Barron, Director of Communications and Engagement at Mid-Nottinghamshire ICP on Kerry.beadling-barron@nhs.net
Additional notes
End of Life Care Together project
The partners involved in this project are:
Beaumond House Community Hospice.
Nottinghamshire Healthcare NHS Foundation Trust.
Nottinghamshire Hospice.
Primary Integrated Care Services.
Sherwood Forest Hospitals NHS Foundation Trust.
Cruse Bereavement.