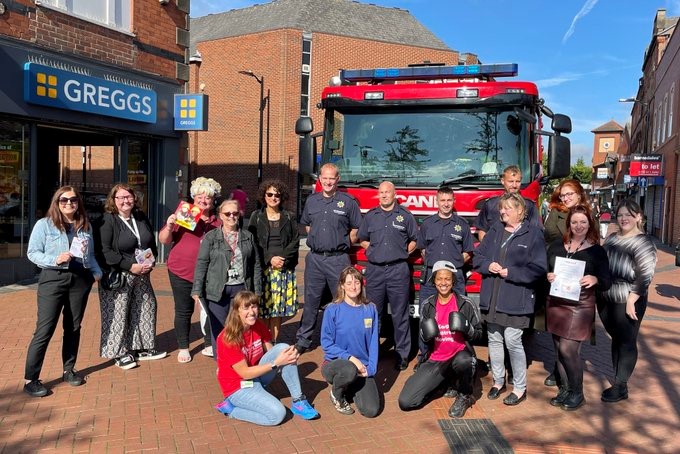 Community Days of Action
Community Days of Action – Local Health Input
Introduction
The Nottingham City Integrated Care Partnership (ICP) was invited to support Community Days of Actions throughout the Nottingham City Wards. These events have already been held throughout June and July, and the specific involvement of the ICP began in July. These events are scheduled throughout each month running through to March 2022.
The aim of the Days of Action include:
Reduce crime and anti-social behaviour
Increase community engagement and empowerment
Improve the perception of an area
Enable citizens to take ownership in improving neighbourhoods
To create and strengthen networks and partnerships
The days of action will involve both City Council services (such as Street Cleansing, Safer Housing, NDOs and CPOs) and a range of other partners, such as Nottinghamshire Police and Fire and Rescue Service, the voluntary and community sector, Nottingham Trent University, the University of Nottingham and Nottingham City ICP health services Different partners will be involved in the days of action, depending on the makeup of the ward.
The days of action will be an important tool for agencies to continue to strengthen partnerships and to work effectively together. They will also provide a mechanism for agencies to demonstrate their commitment to the communities they serve and will be a means for the community to engage with agencies who can support them.
The Nottingham City ICP Vision
The Council were keen to have the Clinical Commissioning Group involved with these days, linking into the health networks for the local areas. The ICP will focus on local health needs of the citizens to be promoted on the various days/events.
Population Health Management Approach
In addition to networking, providing resource on the Day of Actions will benefit the local community as it will allow PCNs the platform to showcase the local health needs of the population, and use the events to improve said health needs of the populations.
---
Showcase of September events
Day of Action in Bestwood – PCN 1 and 5
Councillors, partner agencies and local community and voluntary groups all joined together in September to undertake a Day of Action in Bestwood. An array of activities were undertaken including parking enforcement outside local schools, checks for untaxed vehicles, a deep clean of the Peary Close and surrounding area partners door knocked and spoke to local residents in part of Top Valley, whilst the Fire Service fitted smoke alarms. The PCN team had chance to engage with the community promoting healthy lifestyles.
Councillors regularly support the Nottingham Clean Champions who help to keep Bestwood, Bestwood Park and Top Valley clean. Local Bestwood councillors Audra, Georgia and Jay were recently also joined by MP Alex Norris on a litter pick around the Bala Drive area.
---
Day of Action success in Bulwell Forest and Top Valley – PCN 1
The Bulwell Forest Day of Action, was held at Tesco, Top Valley in September, where there was space for the community providers to set up stalls on the day. The event went really well, there was a lot of footfall and public interaction with service providers.
In attendance was our Stub it! service, PCN pharmacist, social prescriber, clinical nurse, PCN physiotherapist, members of the City Locality Team, Royal British Legion, Nottinghamshire Police and Fire Services. Also, colleagues from Nottingham City homes, Housing 21, Neighbourhood Development Officers, dog wardens, employability advisors and childcare information.
Local Councillors spent the day getting involved in all the activities and meeting people of all ages.
Children from Stanstead School litter picked around the walkway on Hucknall Road
Heathfield School asked their parents about any issues which they thought needed addressing in the local community
The parking enforcement team visited Heathfield School to tackle problems with irresponsible parking at school drop off times
Heathfield school children litter picked around the Brooklyn park area, checks were made on private rented properties and much more
Bulwell Forest Bowls Club opened their doors to anyone who wanted to learn how to play bowls
Bulwell Forest Community Garden and Nottingham City Homes arranged a litter pick around the Bestwood Road area
The police, fire and Nottingham City Council officers door knocked in an area to talk to residents and fit free smoke alarms where needed
A member of the public on the day received a health check, which resulted in a referral being made to their GP for weight management.
---
Day of Action success in Bulwell Market – PCN 1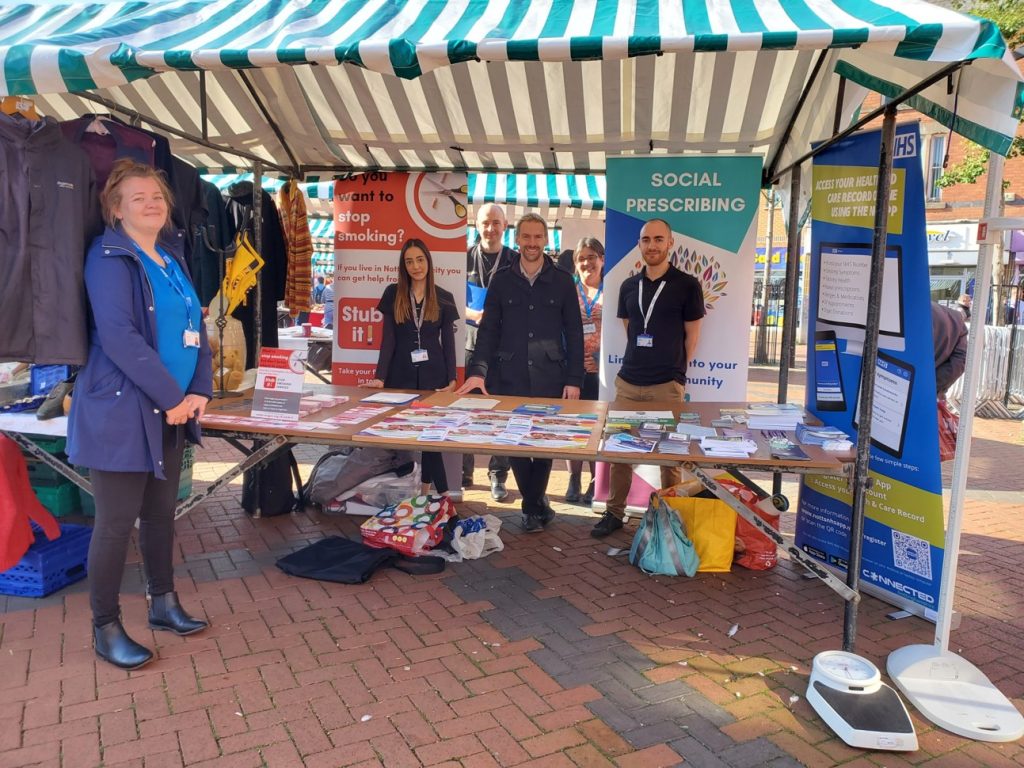 The event held in the Bulwell market square in September was very successful.
Organisations that attended included the Stub it! service, social prescriber, PCN physiotherapist, members of the City Locality Team, Royal British Legion, Nottinghamshire Police and Fire Service. And, Neighbourhood Development Officers, dog wardens, This Girl Can, Cats Protection and employment advisors.
Quite a few members of the public received a health check from one of the PCN physiotherapists who referred them to their GPs. The public were very engaging and were happy to be able to talk to a healthcare professional.
The Stub it! service was promoted on the My Bulwell Facebook page prior to the event, and this ensured the team spoke to many members of the public and handed out a lot of information about the service.
The fire service gave helpful advice and support to a concerned resident. And the employment advisors took referrals from the public looking for work. Any other local issues were raised with the Council – and these will get followed up after the event
---
Future Events
The plans highlight what can be achieved by partaking in these events. The ICP should continue supporting these events, with PCNs working with their PCN Development Managers to work on events suitable to each of the local populations. The ICP has provided dedicated resource for these events to support in the planning of them, and the Council have dedicated resource for promotion and engagement with the communities.
Whilst stalls have been the most utilised option for events so far, there are so many activities and events undertaken on these days which PCNs could utilise. Most events have door knocking activities which the PCNs could engage with, and discuss health priorities on the door. The networking capabilities of these events allows for PCNs to have two meetings with councillors, housing providers, neighbourhood development managers, fire services, and police colleagues amongst others where they can collaborate on what matters most for their local population.
---
Dates for the 21/22 Days of Action
| | |
| --- | --- |
| Ward | Date |
| Bestwood | 8 September 21 |
| Bulwell | 22 September 21 |
| Bulwell Forest | 15 September 21 |
| Bilborough | 10 November 21 |
| Leen Valley | 17 November 21 |
| Radford | 14 October 21 |
| Hyson Green & Arboretum | 12 October 21 |
| Castle | 12 October 21 |
| Lenton and Wollaton East | 13 October 21 |
| Wollaton West | 24 November 21 |
| Meadows | 23 March 22 |
| Clifton East | 16 March 22 |
| Clifton West | 9 March 22 |
Ward/PCN Overlap
Each ward has an allocated day and each PCN on average covers approximately 3 wards. Below we have mapped out each ward and which PCN sits within them. From this we have invited each PCN development manager to support these days linking into the local health priorities, and develop a unique health offer at every event.
| | |
| --- | --- |
| Ward | PCNs Covered |
| Bestwood | PCN 1 + 5 |
| Bulwell | PCN 1 |
| Bulwell Forest | PCN 1 |
| Basford | PCN 3 + 5 |
| Berridge | PCN 4 + 5 |
| Sherwood | PCN 5 |
| Aspley | PCN 3 |
| Bilborough | PCN 3 + 7 |
| Leen Valley | PCN 3, 4, + 7 |
| Radford | PCN 7 + 4 |
| Hyson Green & Arboretum | PCN 4 |
| Castle | PCN U, 4, 6 + 8 |
| Lenton and Wollaton East | PCN U + 7 |
| Wollaton West | PCN 7 |
| Dales | PCN 6 |
| St Anns | PCN 6 |
| Mapperley | PCN 6 |
| Meadows | PCN 8+6 |
| Clifton East | PCN 8 + U |
| Clifton West | PCN 8 + U |