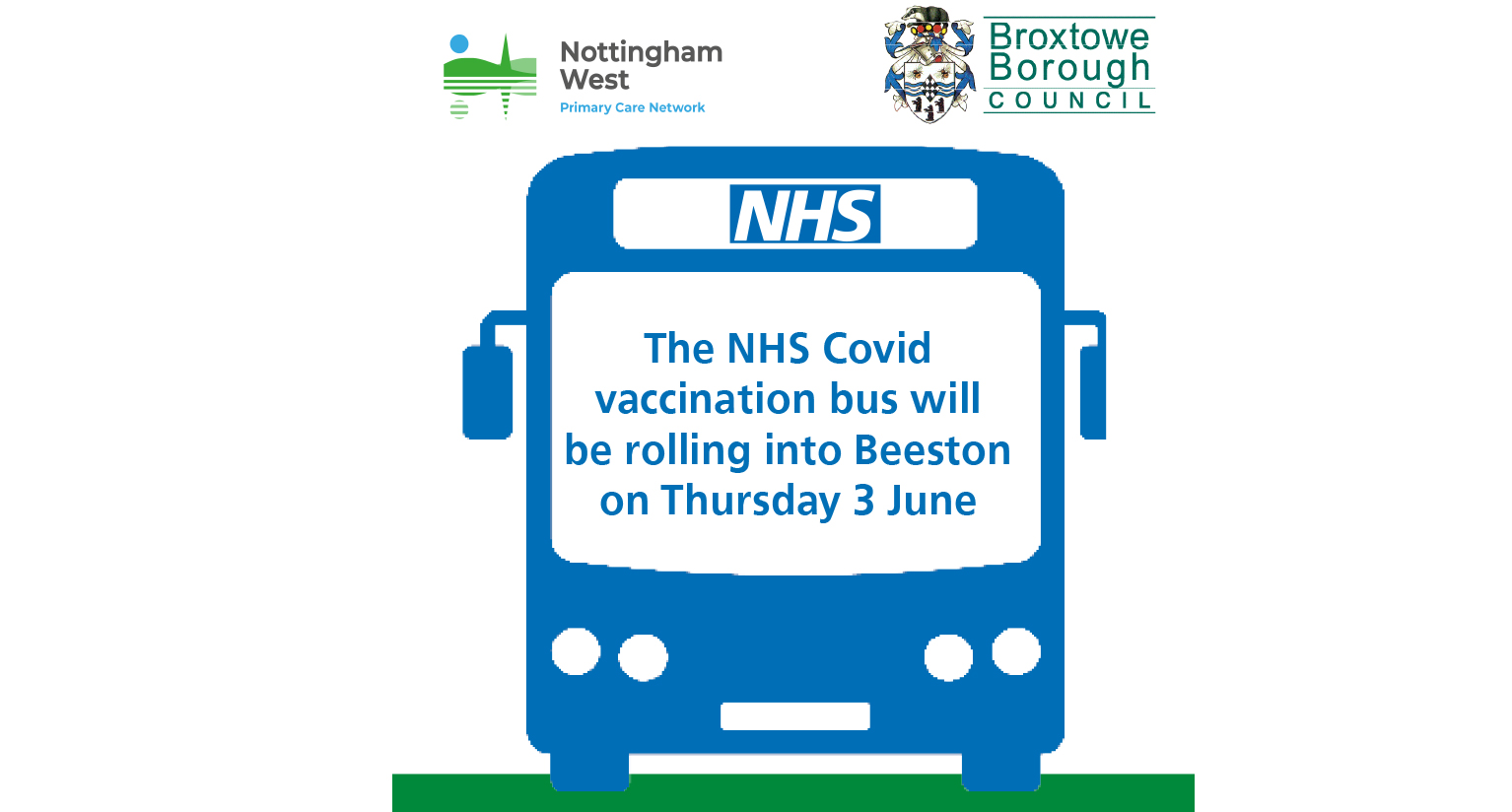 Victor the vaccine bus rolls into South Notts…
The Covid vaccination programme continues at pace across the county and Victor the vaccine bus came to our patch earlier this month, visiting Hucknall on Monday 3 May and then Beeston on Wednesday 5 May.
The bus was available for first vaccinations for eligible local people and it was an easy way for people to access a vaccine closer to home.
Talking about the bus visit to Hucknall, CCG PCN Manager Nikki Biddlestone said: "The success of the vaccination bus was a result of the community coming together, and was a fantastic example of partnership working between the NHS and the local council.
"In Hucknall, I worked very closely with Tracey Bird, Health and Wellbeing Officer at Ashfield District Council, to plan the visit. Tracey is a fantastic asset to Ashfield DC and the local population she works closely with. Her understanding of the area and community needs has been invaluable to placing the bus where they are most accessible to local people.
"It's been great piece of work for us to join together for the benefit of people in Hucknall and has enabled our partnership working to develop even more. We continue to work collaboratively for the benefit of the Ashfield population and look forward to seeing the benefits to individuals and their families."
Tracey, who also worked on the bus on the day, said: "The vaccination bus was really well received within the Hucknall community. I was a little worried because it was a very wet Bank Holiday Monday, but the Hucknall residents never fail me with their commitment to their community.
"Many people found the bus really convenient due to a lack of personal transport and other circumstances that have delayed them accessing the vaccine. One person told me: 'I have changed my mind so many times about having the vaccine but coming to the bus drop-in session today has made me feel more at ease. My partner was also able to support me today because they aren't at work'. Other people thanked everyone involved and were very pleased that the bus had visited Hucknall."
The bus is next visiting Beeston, parking up at Devonshire car park (NG9 1 BS) on Wednesday 3 June, from 10am, drop in only and will only be around until vaccines run out. First vaccinations and available to all currently eligible.