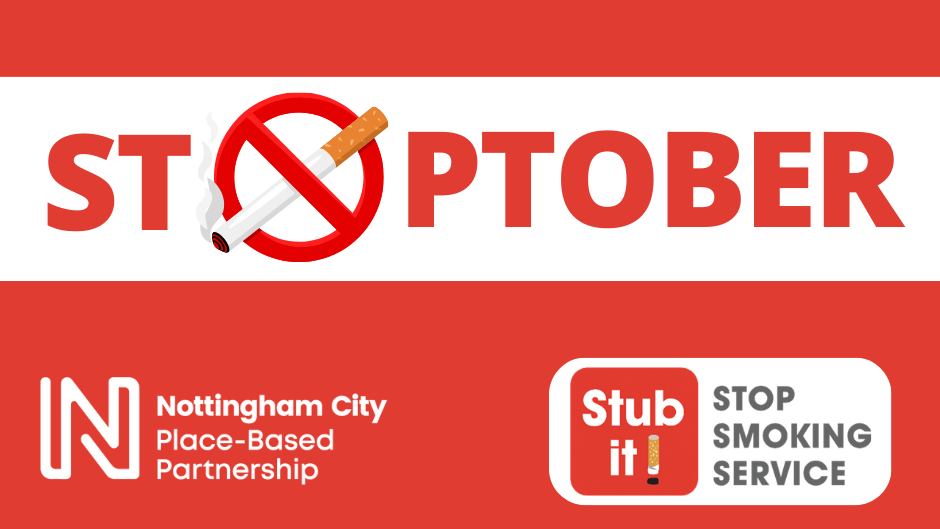 Stub It! this Stoptober
Smokers in Nottingham city are being urged to make a quit attempt this month as part of the Stoptober campaign from Nottingham City Place-Based Partnership and Stub it!
Nottingham has a particular smoking problem, with the numbers of smokers in the city much higher than the national average. This has led to smoking being the largest single cause of death and ill-health in the city.
Figures show that over 20% of adults in Nottingham city smoke, with over 55 thousand smokers in the city. It is estimated that each year smoking costs the city £137million – this includes £115M in lost productivity, £12M in healthcare costs and £6.8M in costs to social care.
In the current cost of living crisis, the cost of smoking can also hit struggling households hard. The cost of buying cigarettes, missing work due to ill-health, and the price of medication for smoking-related illness can drive families and individuals into even deeper financial issues. This is particular problem for areas in the city with high levels of depravation and poverty.
But help is available. The free Stub it! Stop Smoking Service provides an achievable and personalised journey for all Nottingham city residents. 99% of people completing the Stub it! programme would recommend to friends and family and felt well supported by advisors during their quit attempt.
Evidence shows that if a smoker can quit for 28 days, then they are five times more likely to quit for good. 40% of graduates from Stub it! go on to quit for good. Combining behavioural support and nicotine replacement products (including vapes), those enrolled on Stub it! will receive tailored support to improve their chances of quitting permanently.
The service now delivers to anybody aged 12 or over who lives in Nottingham city. Citizens can self-refer to the Stub it! service by calling 0115 8240583 (Option 2), sending an email toncgpa.stubit@nhs.net, using the form on the NCGPA website, or speaking to the GP+ reception team (4pm and 8pm).