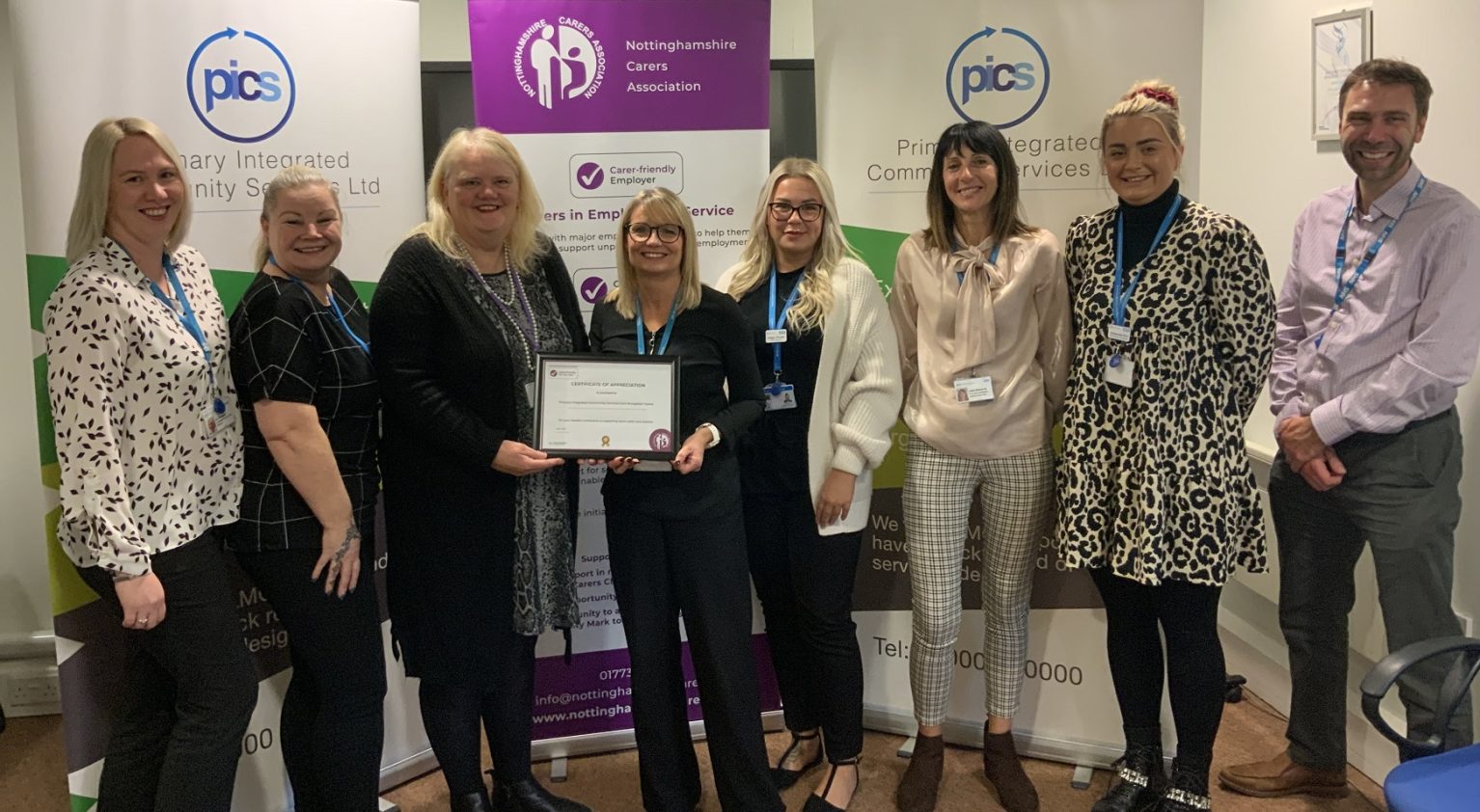 Mid Notts Care Coordinators find new ways to support Carers
On Tuesday 22 November, Nottinghamshire Carers Association (NCA) awarded the Carer Friendly Service Quality Mark to the PICS Mid Notts Care Navigation Service who work with residents registered to GP Surgeries in Ashfield, Mansfield, Newark and Sherwood.
NCA's Stephanie Smith and Jayne Davies presented the award at Nottingham Business Park to mark Carer's Rights Day. They highlighted the team's 'innovative and impactful approach' to supporting Carers which has led to 'a significant increase in the number of Carers coming forward and getting the support they're entitled to."
Julie Edwards, Megan Cooper and Alex Flint received the award on behalf of the team. Nicky Render, Service Manager, praised their "caring and compassionate approach which has helped many people to identify themselves Carers. Not only this, but they've gone a step further and registered them as a Carer with their GP surgery, so they can continue to be supported."
The Care Navigation Service listens to what's important to the people living with long term conditions and supports them to manage their condition, remain independent and avoid hospital admissions. The team work closely with patients and their families and Carers, care homes, hospitals, social services, general practice and the voluntary sector.
Primary Integrated Community Services, a local GP-owned healthcare provider, provides the service in partnership with local GPs. PICS is the first organisation in Nottinghamshire and Derbyshire to achieve a Carer-friendly accreditation as both an employer and service provider.
The ceremony was part of the UK's annual Carers' Rights Day which is highlighting the Costs of Caring. Research shows 12,000 people in the UK become carers every day. That's roughly 500 people an hour, and 8 people a minute. It is estimated by Carers UK that there were nearly 190,00 Carers within Nottinghamshire in 2021 (Carers UK, 2021).
Case study
In October 2022, an elderly patient living in Mansfield started to receive end of life care. Their GP raised her case with the Care Navigator and other members of the multidisciplinary team. a team of clinicians and care coordinators who work together to provide the best care for their patients. Tracey, a Care Navigator in Mansfield North Primary Care Network, identified that the patient's daughter was their Carer and that she may struggle with her loved one's deteriorating condition.
Tracey called the patient's daughter who consented to being registered as a Carer in her GP records, and also agreed to be referred to the local social prescribing service for more support.
Tracey said: "The lady's Carer's status is now known and she will be offered appropriate support, like flu jabs, in the future. She will also receive support from a social prescriber to ensure she can continue to care for her mother. She was very grateful for the telephone call and thanked the team for highlighting the service of social prescribing to her."
Dr Thilan Bartholomeuz, Clinical Director of Mid Nottinghamshire Place Based Partnership and a local GP, congratulated the team saying, "'This service has been since inception to frontline staff, patients and their families and carers. The role of carers in supporting the most vulnerable in our communities is immeasurable. The invaluable Care Navigation Service has been key to supporting carers, working closely with practice teams and sign posting patients and carers to services and support. They take pressures off our stretched NHS while addressing needs of our communities. The service has grown from strength to strength and is now an integral part of primary care."