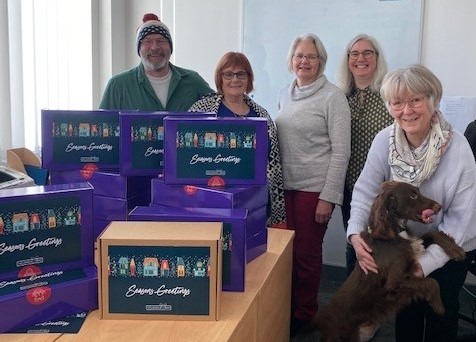 Local firm helps South Notts Befriending service spread Christmas cheer
Rushcliffe Community and Voluntary Service (RCVS) want to say a huge thank you to their volunteers and to KCH Garden Square for helping to spread some festive cheer to the people they support.
RCVS provide a range of support services to help people live their lives as independently as possible, particularly for those who are frail, elderly and vulnerable. They were delighted to be approached by Hannah Scothern from KCH Garden Square, a chamber of barristers based in Nottingham who had heard about how their volunteer befrienders are supporting lonely and isolated people across South Notts.
Befriending support is invaluable especially to the elderly who are experiencing loneliness and isolation and and KCH were keen to bring them a little extra Christmas cheer by giving all of them a Christmas hamper filled with festive treats.
Living alone, with no family nearby, Mary is 81 and one of the people whose life has been improved by RCVS volunteers. She uses the Voluntary Transport scheme to get to essential appointments and really looks forward to her visits from Annette, her befriending volunteer, who sees Mary every week for a cup of tea, a chat and sometimes for a short walk.
Mary says that the Befriending and Voluntary Transport services are "invaluable" to her, with their help she is able to get out and about and enjoy life. She was thrilled when Annette came for her weekly visit together with Hannah and said that the Christmas Hamper was "such a lovely surprise and lovely thought".
Hannah said "What a privilege to meet Mary and the team at Rushcliffe Community Voluntary Service today. I was lucky enough to be able to meet one lady who receives support from their befriending service & hear first-hand what a difference just an hour a week with her volunteer makes. I also met with her volunteer who spoke of the benefits she has found in volunteering.
"Their need for volunteers is now so great that the waiting list for befriending clients is full. I'd urge anyone who can offer an hour a week, in person or by phone, to look into their volunteer opportunities."
"The support the team at RCVS provide is invaluable and I am so proud to have been able to organise this KCH Garden Square initiative. Also, a HUGE thank you to Colleague Box for their work in getting the hampers together and sent out. They made the process incredibly easy and the end products are fantastic."
Anyone interested in volunteering should call RCVS on 0115 969 9060 or email volunteer@rushcliffecvs.org.uk.