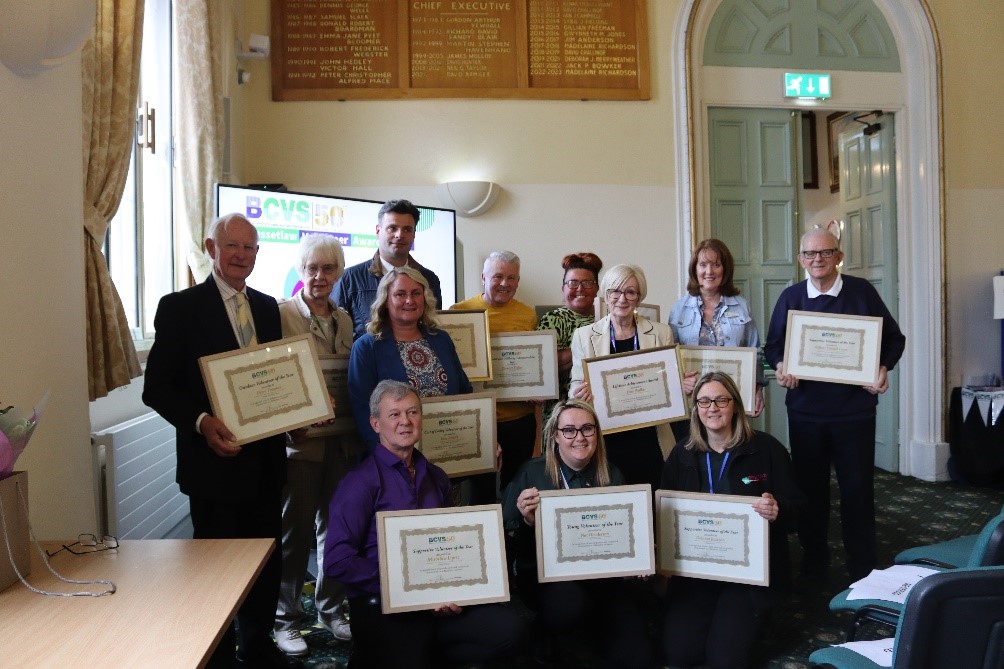 Bassetlaw Volunteers' Week celebration recognises extraordinary contributions
Bassetlaw Community and Voluntary Service has celebrated its 50th Anniversary in style with their biggest volunteer recruitment event to date, followed by Volunteer Awards ceremony to recognise and thank some of the most dedicated and inspirational volunteers in Bassetlaw.
The Volunteer recruitment event, which took place on Tuesday 6th June at Worksop Town Hall, was attended by over 100 people, all interested in finding out more about volunteering with one of the 27 local charities in attendance.
This will give local charities a real boost at a time when they are needed more than ever due to unprecedented demand. Volunteering is also great for volunteers themselves and benefits include improving mental and physical health, increasing self-confidence and self-esteem, reducing stress and anxiety, developing new skills, and building friendships and social interaction.
One of the charities attending on the day, was Centre Place, who like a lot of local charities, have seen a spike in demand for services over the past few years.
Georgia Crossland, Service Manager, Centre Place, said: "It has been a fantastic day connecting with colleagues and seeing all the volunteer opportunities available in Bassetlaw. I am extremely proud of one of our volunteers, Nat, for winning an award and hope it gives other young people the confidence to explore volunteering. Nat has made a huge difference to the lives of children and young people through volunteering their time and sharing their ideas at our youth group. 
We are extremely grateful to all our volunteers who have supported our organisation over the past 26 years and look forward to welcoming new volunteers who share their valuable skills and knowledge with us. I also want to say a huge thank you to BCVS for organising this event and bringing everyone together, shining a light on our brilliant volunteers across Bassetlaw".
The Bassetlaw Volunteer Awards Event followed the recruitment fair, to honour and thank exceptional local volunteers. 77 nominations were received in total by members of the public, with an independent panel of judges tasked with choosing the 8 winners.
Stephen Brown, Head of Corporate Services, Bassetlaw District Council, one of the judges, who presented the Bassetlaw Cost of Living Award said:
"Bassetlaw District Council is delighted to be able to support such an important event arranged by the BCVS. Volunteers play such a vital part in our local community supporting so many important services and activities for local people. Much of this work goes on with little appreciation so we are honoured to say thank you to those nominated for these awards – you are all winners"
Dr. Victoria McGregor-Riley, Locality Director, Bassetlaw and Mid Notts Place-Based Partnerships, also a judge who presented the Bassetlaw Health and Wellbeing Volunteer Award said:
"It was an amazing celebration of the many contributions of local volunteers who improve the lives of local people in Bassetlaw.  I was privileged to present the award for Bassetlaw Health and Wellbeing Volunteer of the Year. 
"The energy, effort and commitment inside and outside room is absolutely tremendous for the people of Bassetlaw.  I am proud to present the Health and Wellbeing Award in recognition of the huge impact volunteering has on the health and wellbeing of local people."
Richard McHugh, In Sam's Name, one of the winners of Volunteer of the Year said:
"I am absolutely speechless to have won the Volunteer of the Year award. And for Stewart Fisher (Sam's Dad) to have also won the Health and Wellbeing Volunteer of the Year. All the hard work and positive impact on the community has been recognised for the work we do – In Sam's name"
In addition to the eight standard categories, there was an additional  "Lifetime Achievement Award"  presented to Fran Walker.
Fran has been a stalwart volunteer in Bassetlaw for over 50 years. She is the current Chair of Trustees at BCVS and has been a trustee since BCVS was first established 50 years ago.
Fran was delighted to receive the award and remains a shining example of lifelong volunteering who is an inspiration to all and who's passion in life has always been to help others.
Fran has also volunteered her time and expertise to a number of other charities in Bassetlaw including Focus on Young People in Bassetlaw, The Gatehouse Trust, and Manton Community Sports and Leisure, which is now the home of Bassetlaw Food Bank, another charity that is close to Fran's heart.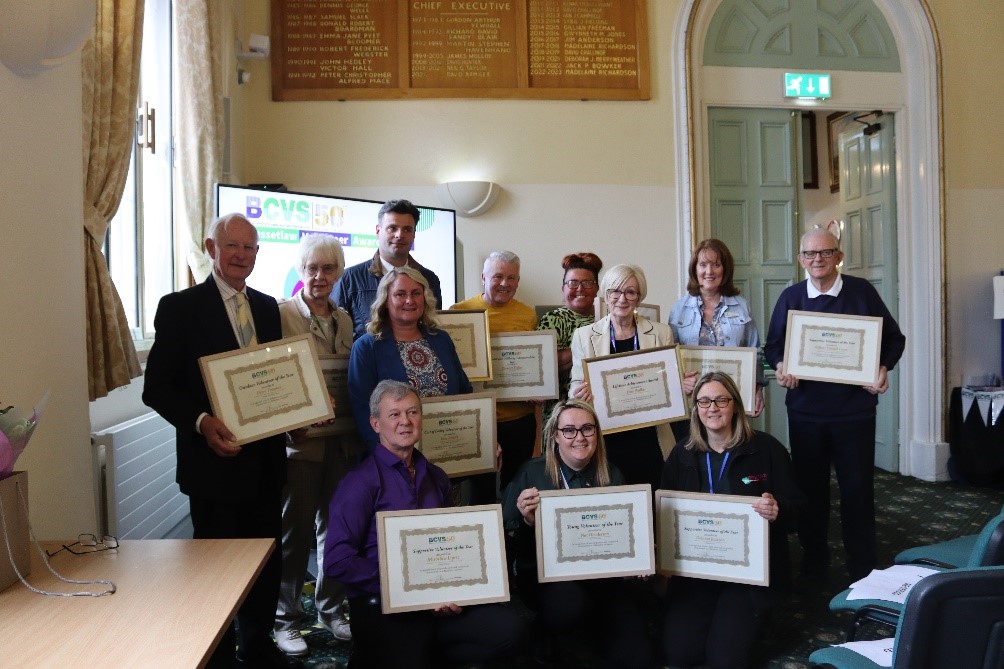 The award winners each won their categories for their dedication, passion, and unwavering commitment to giving up their time to make Bassetlaw a better place. Without volunteers like them, the organsations they support would not be able to do the work that they do.
More volunteers are always needed, and there is a variety of different roles that you can get involved with.
If you didn't get chance to attend the volunteer recruitment event then don't worry – BCVS will always be on hand to connect you with a volunteer role to suit your needs and interests. Just email bcvs@bcvs.org.uk, call 01909 476 118, or visit www.bcvs.org.uk/volunteer and they will soon start you an amazing journey that will not only change the life of others, but it could change yours too